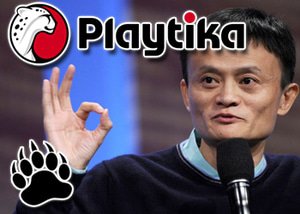 Casino games developer Playtika, owned by Caesars Interactive Entertainment (CIE), has been purchased for a whopping $4.4 billion by a group of Chinese investors backed by billionaire Jack Ma.
This group of Chinese investors is led by Shanghai Giant Network Technology and also includes Jack Ma's private equity firm Yunfeng Capital as well as China Oceanwide Holdings Group Co., China Minsheng Trust Co., and Hony Capital Fund.
The announcement of the sale has come just a week after Caesars Acquisition Co. started "exclusive talks" with the Chinese group following an auction that was held. This auction also included U.S. toymaker Hasbro Inc. and South Korean mobile game company Netmarble Games.
The acquisition of Playtika by the Chinese consortium is expected to close in the third or fourth quarter of 2016.
Despite Playtika being purchased, there are no plans to cut any jobs or move the company out of their existing headquarters. The consortium has stated the online games unit will remain independently run from their headquarters in Herzliya, Israel, and that their existing management team will continue to run the day-to-day operations.
Playtika Entering the Chinese Mobile Gaming Market
The sale of Playtika has been an all-cash deal and it tops any of the biggest historical transactions in the real money gambling industry The acquistion marks this Chinese consortium's entry into the ever growing mobile games market in China. Online gambling is illegal in China, except for some forms of sports, guessing games, and licensed casinos in Macau. Playtika's platform does not involve betting as the company uses the so-called "freemium model" where games such as Slotomania and Bingo Blitz can be played for free, and players can also opt to buy extra services.
Playtika's platform also uses a virtual currency that cannot be exchanged for real money and this approach is going to remain the same even under the new ownership.
Playtika was sold by Caesars Entertainment as part of the company's restructuring, even though the online division is one of the few branches of the Caesars brand that actually makes money. This online division also owns the World Series of Poker brand and Caesars' real money online gambling operation. CIE will continue to operate its real money online gambling business and the WSOP brand.
What's Next For Caesars?
Selling the interactive games unit, which is Playtika, will pump much-needed cash into a new group that is going to be created once Caesars Acquisition Co. (CAC) and Caesars Entertainment Corp. (CEC) merges. CEC is struggling to restructure its bankrupt main unit, Caesars Entertainment Operating Co (CEOC), from which CIE was spun off pre-bankruptcy. CEOC's creditors, however, are insisting that CEC should be forced to contribute billions more to the restructuring than CEC has offered to date.