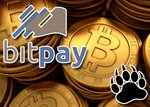 Great news for digital currency lovers today as bitcoin casino payment service provider BitPay released the BitPay bitcoin app.
This is the latest advancement from this company and is a full-featured app that can be used for purchasing, storing and spending this very popular digital currency. The BitPay casino bitcoin app was first announced during the Money 20/20 event in Las Vegas and it will allow the digital currency to be converted to dollars via an integrated BitPay Visa prepaid debit card. Visa is the only debit card used by bitcoin users in the United States at present.
The BitPay bitcoin casino app will give users full control over their funds at all times through device based private keys, backup protocol, and multi-device authentication. The current services that are available require users to maintain their bitcoin in company-managed accounts that are vulnerable to hacks and security breaches.
BitPay CEO Stephen Pair said, "The app provides a new way to bring more users and companies into the bitcoin ecosystem. This app is built on years of work spent refining the payment experience with BitPay merchants and building a more secure wallet with the Copay platform."
BitPay Marketing and Communications Manager, James Walpole said, "We think we'be been able to answer one of the core problems that have locked new users out of bitcoin: how to offer a beginner-friendly experience that doesn't sacrifice security. This app is a way to get everything you need to start right with bitcoin, without trusting your money to a third party that can be hacked."
BitPay recently made headlines when they helped NetBet become the first bitcoin casino licensed by the UK Gambling Commission. NetBet decided to include Bitcoin casino payment options to better serve the UK's growing digital currency user base.
Analysts Say Bitcoin Poised to Hit $800
Digital currency enthusiasts have been celebrating this week as bitcoin settled back into the $650 price range on major exchanges. Analysts are suggesting that bitcoin users stock up on champagne as they reckon the digital currency is poised to hit $800.
Investors and traders are attributing the recent surge in the price of bitcoin to the demand from the Chinese market amid fears that the Chinese yuan is devaluing. Some financial experts, however, believe the demand for the cryptocurrency is in fact due to the Chinese government's tightening regulations on wealth management solutions.
Bloomberg reported that the central bank of China has started the trial monitoring of banks' off-balance-sheet wealth management products (WPMs) under its macro-prudential assessment system. The goal of which is for regulators to better control the pace of broad-based credit supply.
Citigroup has said that this so-called shadow-banking system is expected to cover an estimated $1.9 trillion worth of assets, which if even just a portion of these funds was to be allocated to bitcoin could act as a catalyst for another price surge.
Economist and investor Tuur Demeester tweeted, "Just like in late May at $420, it looks like we're breaking out of another triangle. $800 seems like a fair target."
Zerohedge said, "Should the crackdown on WMPs persist, it may be just the catalyst to push bitcoin above its recent multi-year highs just shy of $800 hit earlier this summer."
If this is true, we could see millions or even billions of Chinese yuan circulating in the exchange markets.
Current Price and Trade Volume
The currency price of bitcoin is $686.43, with a trading volume of $9.26 million.