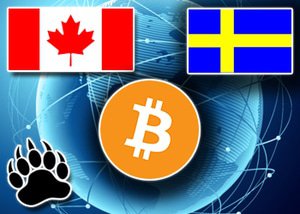 Canada embraces Blockchain technology which will allow them to support bitcoin.
Blockchain is growing and two more countries, Canada being one of them, are set to adopt the technology that supports digital currency bitcoin into their banking systems.
The Bank of Canada announced last week that they are testing how the blockchain technology can be used for interbank payments. The Canadian centre bank has however stressed that they do not have any plans to come up with a digitized version of the Canadian dollar.
Blockchain uses cryptography to create a distributed ledger system to hold and spend money in a more open, transparent, and flexible manner compared to the traditional bank or credit card companies. So far, the Bank of Canada has taken up a proof concept experiment with a number of companies including New York-based start-up R3 CEV, Payments Canada, and several Canadian commercial banks.
The Senior Deputy Governor of Bank of Canada, Carolyn Wilkins has hinted that this could be the first of a number of experiments involving digital currency technologies. She told the Wall Street Journal that other frameworks need to be investigated and that there are many hurdles that will need to be cleared before such a system would ever be ready for prime time.
Bitcoin Price and Transaction Volume
The price of Blockchain's digital currency is CA$836.32 with 15.68 million bitcoins in circulation. The number of bitcoins in circulation could increase even further if the Bank of Canada goes ahead with plans to use them for interbank payments.
Bitcoin Casinos in Canada
As we can see, there is a long way to go yet but the future of bitcoin looks promising. Bitcoin is already used in a number of online casinos and the introduction of it into Canadian banks will be very much welcomed. For those that aren't familiar with this digital currency, Bitcoin is an online payment system that first launched in 2008 before becoming an open source software a year later.
There are currently two regulated and licensed bitcoin casino for Canadian players and these are Bitstarz casino and Betcoin casino. They are really good bitcoin casino and both are very different so it's worth checking them out before making your decision. These site use Bitcoin casino software like Soft Swiss or UltraPlay and there are no maximum or minimum deposits either. Players can enjoy great casino bonuses in BTC too. Bitstarz is currently offering a $100 first deposit bonus for all real money players. This is for Canadians that play in normal currency. If however you decide to play in bitcoins, you get a first deposit bonus of 1 BTC which works out at approximately 5 times more. There are wagering requirements but these are low at just 30x.
Be sure to check either of these bitcoin casino out if you would like to see how bitcoin gaming works.
Sweden Also Testing Blockchain Technology
Sweden is also testing blockchain technology, but they are doing so for land registry. They are working with several blockchain-related firms to place Sweden's land registry on blockchain. The Swedish experiment which is currently in the proof of concept stage, involves putting real estate transactions on the ledger system, where anyone from banks, the government, brokers, sellers, and even buyers can keep track of the progress of land deals. This project will put Sweden on the blockchain map as being the first country to have a distributed ledger-based land registry.