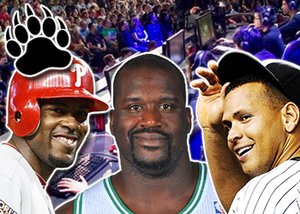 eSports in really making a name for itself and it looks like a lot of big sporting names are looking to get in on the action including The Shaq.
The Daily Dot has reported that retired NBA player Shaquille O'Neal and New York Yankees infielder Alex Rodriguez have invested in NRG eSports. NRG eSports owns teams that compete in League of Legends (LOL) and Counter-Strike: Global Offensive.
Jimmy Rollins, Chicago White Sox shortstop has also joined O'Neal and Rodriguez in contributing to NRG eSports latest financing round. Rollins also plays League of Legends.
NRG eSports are owned by Miller and Mark Mastrov, who are also minority partners of the Sacramento Kings, along with Shaquille O'Neal.
According to NRG Charman, Andy Miller, the organization believe that these three sporting personalities who are all from the traditional sports world will also contribute towards legitimizing the eSports space.
Miller also went on to say that the three sporting figures all approached NRG direction. He stated that O'Neal had been "circling the space" for quite some time but he didn't disclose the size of the investment that the former NBA star had made. He told ESPN.com, "Valuations of teams are still small. They wanted to get in super early as they are seeing the giant viewership numbers that are dwarfing pro sports right now."
NRG eSports although still a relatively new organization in the eSports space is hoping to expand. Miller said that they currently have two teams and they are looking to expand them into new games within the next year. He also said that they are more than happy to use the pulling power of the celebrity status of their newest investors if it means they will be able to sign a player.
O'Neal, Rodriguez, and Rollins are the latest sporting personalities to jump into the eSports fray. Late last year we saw O'Neal's former Los Angeles Lakers teammate Rick Fox fork out $1 million to purchase League of Legends team Gravity Gaming, which has since been rebranded to team Echo Fox.