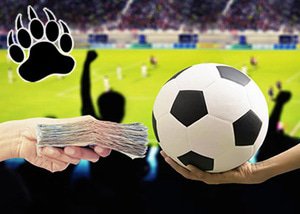 It has been reported that UK betting ads feature in 95% of football matches and this could be the next thing to come under scrutiny by the UK Gambling Commission.
Last week in a BBC report it was revealed that 95% of football matches that are televised now features UK betting ads. They also stated that these sports betting advertisements make up about 20% of all the ads that run during that time. We have already seen the UK Gambling Commission investigating cartoon characters being used in gambling games, so could this be the next area that they focus on.
Legal online gambling is something that is taken very seriously by the UK Gambling Commission and it now looks like sports betting could be coming under scrutiny too. The study that was referenced in the BBC report looked at twenty-five different matches that were shown on TV stations in the UK. During the duration, it was reported that only one of the matches didn't have any betting ads. Throughout the course of the study, there were 1,324 advertisement spots run with 272 of the commercials being gambling related.
These numbers equate to one in five of the slots being UK betting ads and in some cases, the number was higher. Big name matches like the Europa League games had up to 40% of all ads being betting related.
The results of the study have caused concern and activist Matt Zarb-Cousin, said, "We are concerned about the effects of children and young people being exposed to gambling advertising due to the pre-watershed exemption for live sporting events. The government has an opportunity to address this in the forthcoming review." The current watershed in the UK is 9pm and this was created to protect children from harmful material on TV and radio. Producers have strict guidelines for dealing with issues of taste, sexual matters, violence, and strong language, and this could be revised to include online gambling and sports betting too, especially after recent investigations into underage gambling in the UK.
The UK Gambling Commission is already looking to crack down on online casinos offering ads that are targeted towards younger gamblers and whether or not the regulator will move on to target more widespread UK betting ads in the future is unknown but it could be the start of something that will be taken seriously around the world. Underage gambling is not something that any government wants to happen whether it's the UK or Canada. We will update this article if any further information becomes available.