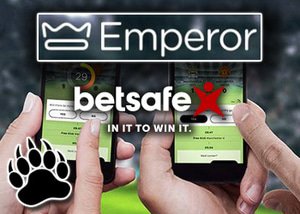 Betsafe social betting game Emperor has launched. This is a brand new social and innovative native pool betting football game from this Betsson subsidiary company.
Earlier in the month we reported on how Betsson subsidiary Betsafe had launched a brand new Apple TV gambling app. Now they have launched a brand new social betting game.
This social betting game is called Emperor and it will see players score points by predicting different events. They can predict who will score the next goal or who will be the next player to get a red or yellow card as the game unfolds during a live football match. Players who take decide to participate in the game will compete against each other to win cash prizes that are pre-allocated from a prize pool.
This Betsafe app has been released for both iOS and Android devices and is set to be extremely popular with football fans.
CEO of Betsson AB, Ulrik Bengtsson had this to say, "This initiative is in line with Betsson subsidiaries strategy to be at the forefront in providing great innovative mobile customer experiences. Our subsidiaries have now developed 24 unique mobile apps."
Chief Commercial Office of Betsson Malta, Jesper Svensson also added, "There is an increased demand for games that engage players during the games and therefore we are launching the football version of the Emperor for Euro 2016. I am confident that it will enhance the experience for our customers."
The first version of the Emperor App will have all the matches in the European Championships in France, but will be scaled up with more leagues and features in the third quarter of 2016.
The Emperior social betting app is available now for players in the main Betsafe markets. This includes the UK, Sweden, Norway, and Finland.
Betsson and Betsafe are really making their mark in 2016 and we are really looking forward to seeing what they come up with next. They are the first online gambling software company to release a gambling app for the Apple TV and this new social betting app looks set for massive success too. There is so much more that can be added to it too with lots of different leagues and sporting events. The options really are endless. Their live dealer roulette app for the Apple TV has been really popular since its launch and although only available in Sweden the company will be rolling it out to other countries very shortly.
The Emperor social live football app is available on the Apple App store and Google Play Store and will work on all mobile devices. It offers an exciting and thrilling competition to challenge players on their knowledge and skills during live football matches. Players score points by consistently predicting events during the game and the highest scorers win a share of the prize pool. The prize pool for buy-in tournaments will increase as more players take part.
During the game players will be asked questions and they have 30 seconds to answer. If you have the skills to know whether a player will score the next goal or whether the ref will book a player for his next dive, then this is the game for you. The leagues that are currently supported are the Euro 2016 matches and Premier League games for 2016/17. Betsafe are also working hard to extend the support and will be adding more football leagues.
If this sounds like a game you want to play, be sure to check out the video below for more information.