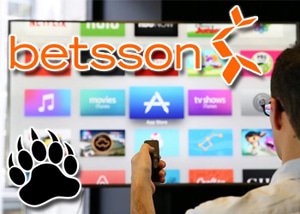 The Betsson Apple TV gambling app is the first of its kind and is making headlines around the world.
This brand new Apple TV casino app was launched by online gambling operator Betsafe, a subsidiary of Betsson AB. They claim it is the first gambling app that has been specifically designed for the iOS device. Betsafe announced that they had launched a Live Roulette app that allows customers to play real money games. This Apple TV betting app bypasses the need for customers to own a computer or smartphone but users with an iPhone can pair them to invite as many as six players to join them on the same Apple TV screen.
This revolutionary Apple TV casino app is only available to customers in Sweden at the moment but we are hoping that the Betsson Apple TV gambling app will go global very shortly. According to Ulrick Bengtsson, CEO of Betsson has stated that the new app would most likely set the standards for the entire gaming industry moving forward. He also stated that the company is once again presenting a ground breaking solution and that Sweden has become the first country to see the app launched for local players. He did confirm that the Live Roulette app will be introduced in more countries in the coming months.
Jesper Svensson, Betsson Malta chief commercial officer, followed up on Bengtsson's statement claiming that the Apple TV casino app reflected the company's ongoing search for new opportunities to develop on customer experiences. He went on to say that it makes sense that they meet our customers on their terms and where they are.
Speaking with eGR Magazine, Svensson stated that there was as yet "no real gambling app" among the couple of thousands of products that were available on the Apple TV app stone and Betsson was not fulfilling a demand but creating one and setting the standard for future competitors to follow.
The Betsafe Live Roulette product officially launched on the 19th of May and Swedish gambling enthusiasts were the first to be provided with the opportunity to log into the new Apple TV betting app. The Betsson Apple TV gambling app is not the first of its kind though and Amaya Gaming's PokerStars brand launched an Apple TV app earlier this year. This however was simply a new way to stream tournament broadcasts and was not a real Apple TV betting app.
We are all very aware of the rise in popularity of mobile casinos and in particular those for iOS devices such as the iPhone and the iPad. If an Apple TV casino app with real money gaming becomes available, this could really make a big different. Players will be able to enjoy their favorite casino games on their big screen TV.
Betsson revenues are up and during the first quarter of the year they generated revenue of SEK1 billion from all of their subsidiaries. This is an 18% increase compared to the figure from the same period last year. The company highlighted its sportsbook division's performance and growth in sportsbetting turnover from mobile devices. During the first quarter this gambling operator had as many as 538,077 registered players which represents a 45% increase when compared with the first quarter of 2015. Customer deposit are also up 11% year on year.