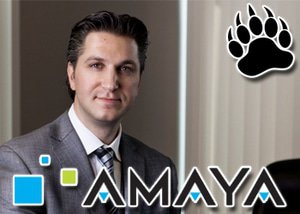 David Baazov and several undisclosed investors offered Amaya Gaming, one of the world's largest online gambling companies and the parent of PokerStars, $2.8 billion in an effort to take the company private.
Based on this offer, Baazov and his partners would acquire Amaya for an estimated $21 per share. In the wake of this news, the value of individual shares climbed some 27% in the first minute of trading on Monday. At closing, the shares remained up 20% at $18.
Amaya's Ups and Downs
In 2014, Amaya Gambling acquired the Rational Group, which included sites such as Full Tilt and PokerStars. The company's stock soared, and prices topped out at $37.28 in February 2015. However, in the wake of the company's revised 2016 earnings forecast released in November, shares fell to less than $15. While individual states are working to legalize online gambling at the state level, the rollout is occurring much more slowly than anticipated. This means that Amaya's expansion in the US market is at a standstill, and the earnings forecast for the gambling giant looks bleak.
Other factors that may be affecting Amaya's earnings include the failure for PokerStars to branch out into sports betting, suggestions that the online poker market has reached its peak, and Russia's slow progress in terms of legalizing online poker as predicted. What's more, in December of last year, a court ordered Amaya to pay the state of Kentucky $870 million to compensate for illegal gambling losses.
Going Private
With Baazov's proposal to buy Amaya shares for just $21, experts believe that many of the shareholders will be reluctant to let go at this price. With so many acquisitions in the online gambling industry over the last couple of years, those shareholders will likely hold out for better prices on their Canadian gaming stocks.
Amaya has been on something of a roller coaster ride for the last several months, and many industry experts, including Calvin Ayre, believe that Amaya should go private in order to avoid drastic highs and lows in the future. Baazov already owns 18.6% of the company's shares, and according to Amaya, there has been no formal bid to purchase the rest of the company's shares. Skeptics believe that Baazov's announcement serves only to bump the price of the stock and appease existing investors until the US state legislation allows for online poker or Russia makes its move to legalize online gambling.
What to Expect
As of November 2015, Deloitte's list of the 50 fastest-growing Canadian technology companies ranked Amaya at third. It also ranked Amaya at 23rd on its list of the 500 fastest-growing technology, media, and telecommunications companies in all of North America. Perhaps this is what has triggered Baazov to make his move; according to a November news release, Baazov said he was "confident that the online gaming and technology industry has a bright future in Quebec and Canada", indicating that he truly does believe in the growth of Amaya gaming and its potential.
In the event that Baazov and his team of investors does acquire Amaya Gaming, which includes the massively popular PokerStars, the end users of Amaya technology will not notice any changes. In fact, it is hoped that more people will be able to enjoy Amaya and PokerStars in the very near future with the pending legislation in Russia and individual states in the US.