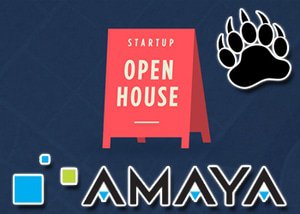 The organizers of Startup Open House and Amaya Inc. (TSX:AYA; NASDAQ: AYA) have locked arms for this year's Startup Open House 2015 edition.
In conjunction with the Amaya sponsorship, this is an event that offers those on the outside an inside peek into the operation of hundreds of business startups, some that through due process will in turn redefine Canadian entrepreneurship.
With Amaya's sponsorship, Startup Open House in their third year will be taking place in Vancouver, Toronto and Montreal on October 29th, and then in Quebec City and Waterloo on November 5th.
The event highlights Canada's flourishing ecosystem startups by inviting those seeking jobs, business professionals along with members of the public into the world of the quirky and creative, and the chance to see the workplaces of these local up and coming companies from the inside out.
Amaya's CEO David Baazov - Walking The Talk
David Baazov, CEO and Chairman of Amaya said how proud his company were to have grown and developed from a small group of budding entrepreneurs in Montreal to what is now recognized as a global leader in their industry.
He went on to say how keenly aware he was of the challenges that entrepreneurs face, especially when one takes the current economic climate into consideration. He insisted this was why it's so critical to offer support to the next generation of business startups, as they strive building companies that hopefully will become one of tomorrow's industry giants.
He was lavish in his praise of the work done by Startup Open House. He said they were doing great work by offering the entrepreneur an avenue to gain visibility, and said how extremely proud Amaya were to support such an initiative.
Startup Open House Founder LP Maurice - Increasing Exposure
Founder of the Startup Open House, LP Maurice, co-founder of Credo and bus travel start-up Busbud, thanked Amaya for their support in allowing them to raise awareness of the event. He said that it will offer local Canadian entrepreneurs that much more exposure and offer up more opportunities for them to be able to connect up with top talent.
Referring specifically to the Amaya sponsorship he said: It's really great to see corporate players like Amaya supporting a community-based initiative like Startup Open House."
Startup Open House are still accepting applications from business startups that wish to participate and open up their doors. For more information kindly visit their website.