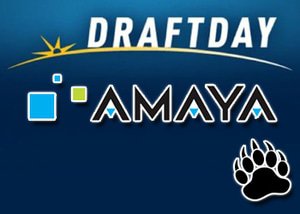 Amaya Gaming is on the move again, eyeing up a potential purchase that would involve them in fantasy sports league betting and broadening their offerings to customers.
David Baazov, Amaya's CEO, dropped a somewhat cryptic hint at the direction the company was looking to move next but left the analysts he was speaking to with very little to speculate on. His exact words were that the company was expressing interest in, "parallel tracks of intenal development and strategic acquisition." One month later, it appears as though we now know what the next steps will be for the gambling software giant.
Reports are coming out now that the Canadian software giant is looking to take the acquisition route and in showing interest in the purchase of DraftDay, a daily fantasy sports site that boasts being third largest on the internet. The site offers players a high quality experience with a user friendly interface and dedication to holding and growing it's market share against juggernauts such as FanDual and DraftKings which operate in the same field.
What This Could Mean For Shareholders
Coming from small roots, DraftDay.com was started by two well known poker players, Taylor 'GreenPlastic' Caby and Andrew 'muddywater' Wiggins who are also cofounders of CardRunners. Their site is publicly traded and currently owned by MGT Capital, an ailing company whose projected incomes for upcoming fiscal quarters are flagging. This may move them to sell of parts of their holdings, such as DraftDay, in order to recover liquid capital and save themselves from eventual bankruptcy. Their NYSE listing, found among other well known gambling stocks, is MKT and has been seen struggling in the last year with a high value of nearly $2 per share and a current value of approximately $0.50.
With fantasy sports filling the gambling void in the lives of players where other forms of online gambling are illegal or mired in grey areas and political red tape, Amaya's financial backing and DraftDay's experience in the field could create another huge presence in the industry. Access to more players across a broader audience, more advertising to bring in those who were sitting on the fence or unaware of daily fantasy sports, and the power of an experience titan in online gambling would be the best possible outcome for DraftDay whose margins and growth have been amazing. MGT's bullish approach to selling off their subsidiary and Amaya's willingness to buy could very well be a perfect pairing in order to help both achieve what they're looking for.