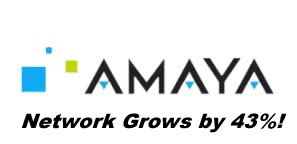 In the recent months it has been observed that the number of people who visit Espace Des Jeux and PlayNow are increasing and is exceeding its usual online poker sales.
The owner Amaya Gaming and the people who ran this very successful business are clueless to what caused the increase in traffic of more than 43 percent. As a matter of fact, last week, both poker rooms almost reach the level of their seasonal peak this year, which happened to be last January. They can only speculate the real reason behind this unusual and surprising event yet very good performance of these two Canadian-facing poker rooms.
Amaya Gaming is a Canadian online gambling company who is based in Montreal and is involved in trading on the Toronto Stock Exchange. The company announced a few months ago their intentions to purchase the parent company of the popular gaming rooms Full Tilt Poker and PokerStars for a whopping price of $4.9 billion.They recently concluded this transaction and were considered a done deal last August 1, 2014. With the new acquisition of these highly acclaimed online gambling room, they are now known and considered as the world's largest publicly listed online gambling company.
Upon careful study, they've concluded that this big increase in the number of visitors in their online gambling website PlayNow and Espace Des Jeux is possibly an effect of their recent purchase. They've gained a lot of attention from this very big transaction making people more interested in what are the other services that the company also offers. Interestingly, these two gaming rooms, PlayNow and Espace Des Jeux are provincial online gaming sites that mainly operate in British Columbia and Quebec. Amaya manages these two businesses on behalf of the provinces' lottery operators. They offer various kinds of games that range from the Lottery, Online Casino, Bingo Games, Sports Betting, and other exciting games for Canadian players to enjoy.
Most people believe that the Amaya Gaming has this specific effect on whatever the company gets hold of and then transform it to a bigger and better brand. Similar to their journey, they started from innovating electronic poker tables, then slowly gets a big chunk of the online gaming industry up to being the biggest publicly held online gaming company that they are today. With this big development, we can expect the growth of more subsidiaries under the Amaya company in the coming years as they continue to expand and tap other markets in the same industry.