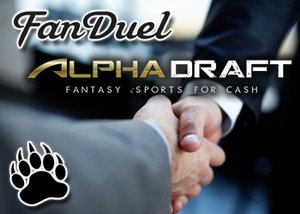 On Thurs September 24 2015, it was announced that there would be a strategic alliance between Alphadraft and FanDuel.
This alliance will mark FanDuel's entry into what is seen as the rapidly growing market of betting on fantasy eSports.
FanDuel Inc. are the current largest fantasy sports operators for one-day events. By marking their entry into the market of fantasy e-sports, they will be in a position to leverage this new partnership with Alphadraft to expand and enhance their core product offerings. This will allow them to reach new sports fans, at the same time maximizing engagement.
Renowned for having some of the best talent in the sports tech business, FanDuel's acquisition of this leading daily fantasy sports platform who seamlessly blend live streaming, e-Sports and fantasy sports contests, will now take the company's staff base in-house. The intent is to create a one of a kind daily fantasy product, geared specifically for eSports.
The partnership between the two companies will mark the first time that FanDuel will have their own product for the eSporting public.
Targeting A Current Global Market Of 200 Million
Co-Founder and CEO of FanDuel Nigel Eccles said that with more than 200 million around the globe watching eSports, AlphaDraft offers the fans a way to engage in "this burgeoning entertainment product" that creates an enormous opportunity for them.
He went on to say that there is very little crossover with what is considered to be traditional sports, as this is targeted towards an entirely new demographic. The acquisition will give them the opportunity to leverage the talent and expertise of the AD team, at the same time enhancing their customer acquisition efforts whilst building an awareness of this new emerging industry. A " Win-Win" scenario, as he put it.
This acquisition continues FanDuel's long term plan of acquiring already proven top experts from the fantasy sports industry, in their bid to build a premium fantasy product for its players, designed to enhance their sports experience.
AD's CEO Todd Peterson said that it was clear that FanDuel were committed to the fan community and that the pairing of the two companies creates an unbelievable opportunity to create compelling products, that in turn will enhance fan engagement whilst also driving the fantasy industry forward.
Multiple Investors Part Of The Fantasy Sports Vision
To Date AlphaDraft investors include the former NBA Commissioner David Stern, Metamorphic Ventures, WME, IDG Ventures, Upfront Ventures, Amplify.LA, Freestyle Capital, and others.
Last year eSports generated $612m in revenue and they state that of all live stream viewers 13% are watching eSports. It is projected that by 2017, this figure will come close to none other than that of the Nation's number one sport, American Football.