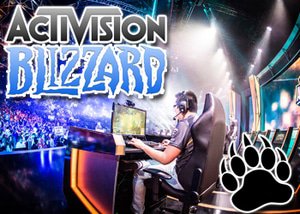 Activision Blizzard Inc. is preparing to enter into the eSports arena and they are betting on the continued growth of this market.
Activision are the video game publisher responsible for some of the most popular video games on the market today including Call of Duty, World of Warcraft, and Skylanders. They are also a member of the S&P 500, and they are setting themselves up for the long term by venturing into the eSports betting market where they feel they will excel and prosper in the coming years.
eSports is a term were are seeing being used more and more to describe competitive video game tournaments and competitions that are being played to live audiences by professional players. It is popular around the world and eSports and although illegal in the US the rise of daily fantasy sports could change this in the future.
Activision is pulling out all the stops and former ESPN and NFL Network CEO Steve Bornstein will serve as their eSports division chairman with Major League Gaming Founder Mike Sepso taking the role of senior vice president. Bornstein has stated that he believes eSports will rival the biggest traditional sports leagues in terms of future opportunity. In a press release Activision CEO Bobby Kotick said, "celebrating our players and their unique skill, dedication, and commitment is the essence of our eSports initiatives and with our deep history and experience in eSports as well as two additional industry leaders, we intend to further enhance our efforts and make certain this remains an important growth driver."
Over the past couple of years, eSports has become a big business and there are different platforms coming on stream around the world for both betting and viewing. More than 200 million viewers are tuning in and forecasts estimate that the business will grow to $1 billion by 2020 from $300 million in 2015. Eilers Research has also stated that this could go to over $20 billion if eSports betting is accepting in countries like the United States.
Fnatic CEO Wouter Sleijffers, stated at the Excellent in Gaming (EiG) expo this week that, "eSports is the biggest sport you've probably never heard of and proper regulation will help it to grow even bigger."
According to Rahul Sood, founder and CEO of eSports betting platform Unikrn, millions of people watch other people play video games and he is getting ready for legalization in the US as he believes that this only a matter of time before America will allow eSports. He also feels that bringing eSports to land-based casinos will greatly increase revenues by appealing to a new demographic and that marketing to younger people is vital. Speaking at the EiG conference he stated that they had noticed that there is a significant customer base that doesn't follow sports like football but absolutely love eSports.
Daily Fantasy contests have come under scrutiny recently and eSports is still waiting in the wings. If Congress declare that DFS isn't in violation of any current laws, eSports could be up and running in very little time and thanks to Twitch and other streaming services, broadcasting is plentiful.