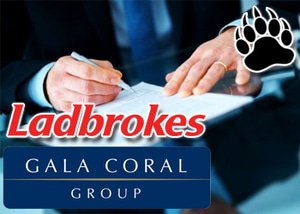 The UK's competition watchdog says Ladbrokes Gala merger permitted if 400 betting shops are sold.
The proposed £2.3 billion merger of these two bookmakers has been conditionally approved provided the companies sell up to 400 of their retail betting stores. The CMA gave provisional approval of the Ladbrokes Coral merger, subject to the condition that they sell off up to 400 of their shops. This might seem like a lot but the number is well below the 1,000 stores that was reported earlier by CMA.
Between the two companies they operate over 4,000 shops which is roughly 46% of the 8,819 shops that the UK market had as of September 2015. The CMS has identified 659 local areas where there would be substantial loss of competition if the shops remain under current ownership. The CMS expressed concern about the Ladbrokes-Coral retail dominance in these areas and stated that it could lead to less favorable odds or lower betting limits for punters. They rejected suggestions that punters could avoid this by gambling online. The CMS acknowledged that online gambling was a growing market but said the evidence showed that many punters prefer to go to their local betting shops.
A deadline of June 13 has been set by the CMS for the response to their provisional findings. Rival sports betting company William Hill, who voiced their opposition to the Ladbrokes Coral merger, will no doubt continue to make their voice heard. The CMA has also extended the deadline for their final decision on the merger. It is now set for August 19, but they hope to have a decision by the end of July.
Ladbrokes have issued a statement in which they welcomed the CMA's announcement. They said they were focusing on finding a buyer for their problematic shops. Rival Betfred had previously expressed and interest and Irish bookmakers Boylesports announced last week that the sale represented "a clear opportunity to realize their long-term ambition to develop a significant retail presence in the UK."
Credit Suisse stated that CMA's report was "a step in the right direction" for the two book makers. Having previously forecast a sale of 600 shops that would lead to a £34 million earnings hit, the analysts now say that Ladbrokes-Coral faces "an incremental £9 million headwind" from the sale, assuming the companies "recoup and average of £200k" per shop sale.
With the Ladbrokes Coral merger permitted by the CMS subject to these conditions, the official union of Ladbrokes and Gala Coral into Ladbrokes Coral Plc should be completed sometime in September or October of this year.
Ladbrokes is currently number 9 in the list of top 10 gambling companies for 2016 and if the Ladbrokes Coral merger goes ahead the combined market cap of these two companies will move their position up to number 4.