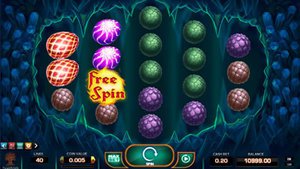 You wouldn't normally think of dragons when you think of a relaxing gameplay experience, but that's what you'll get with the newest title by Yggrasil: Draglings.
In the online slots world, different software companies have produced more or less the same types of games for a few years in a row. It's only within the past 12 months that we have seen a major level of divergence when it comes to software developers really going in their own directions, and Yggdrasil is no exception.
You can see this in a major way with their newest game Draglings. This game uses a dragon-based theme with lots of options to win from dragon symbols. However, what really makes this game interesting from a gameplay perspective is that it's not based on the same high-volatility principles that most new titles have been. What we mean by that is that you're going to have a low-volatility experience in Draglings that's designed to give you long sessions without big swings.
This is a huge departure from the typical games that have been produced leading up to the end of 2014 that usually center around top-heavy payout tables that induce high levels of volatility. While it's exciting to play for major, life-changing jackpots on every spin, it's not always great for relaxing and just enjoying a fun game for a while. With a more balanced paytable and options to win in a lot of different ways thanks to a major free spins feature (get up to 75 free spins at once), expanding wilds and special spreading wilds, you'll have tons of ways to win more often for a better overall hit-rate.
Yggrasil has stepped on the scene in a major way over the past 12 months. They now have a total of nine different slots, all of which have broken away from the norm. These games are of an exceptionally high quality, and they're very impressive because they give players a much different experience than what you're probably used to. They've shown that they can offer play on both ends of the spectrum with Draglings after releasing the super-high volatility game Cazino Zeppelin which was largely designed for high stakes players who wanted to have chances to win small fortunes in their play.