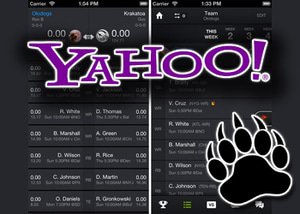 Fantasy sports betting is one of the major emerging markets in online gambling, and Yahoo wants a piece of the action.
Everywhere you look these days, you'll see fantasy sports betting advertisements, contests, tournaments and giveaways. In the United States in particular, fantasy sports betting is one of the only types of online wagering protected by federal law (in the UIGEA), but it's interesting that regular sports betting is the only type banned by federal law (in the Wire Act). Yahoo is looking to get in on the action with fantasy sports betting, and they're looking to leverage their existing readers to turn it into something big.
Floundering Advertising Program
The truth of the matter is that Yahoo is looking at different ways to improve their standings after their advertising platform has largely floundered. Things haven't looked very good for the company for a number of years now, and they're betting on fantasy sports betting as being a way to pull themselves up. With the prevalence of daily fantasy betting in particular, it's hard to say that they're wrong, but it'll be interesting to see if they can implement something that will stand out from the already-established competition.
Existing Assets
Yahoo gets a ton of sports readers each year. Millions of people use their services for email, search, sports news and other information, and with the sports-related focus, they're hoping to convert many of those over to playing fantasy sports. With a new Daily Fantasy app, they're looking to generate revenue from mobile users, and this is the first time they will have tried to do this without something advertising-related.
Will It Work?
It's hard to say if Yahoo's latest foray into fantasy betting will work out for them. They already have an extensive sports-related audience to tap into, and while this will give them a starting advantage, they are also going to be dealing with starting relatively late in the game behind primary competitors FanDuel and DraftKings. It's always good for the players to have more options, though, and anything that drives competition will be good for the business as a whole.