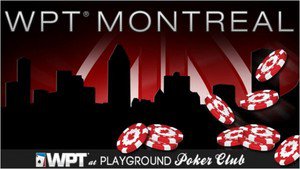 The World Poker Tour hosted the Montreal Main Event to at the Playground Poker Club.
The tournament ran from Friday, November 29th to Thursday, December 6th. At the end of the tournament a new player will have the title of WPT Montreal Champion. Canadian poker players had home turf advantage and played hard to win the pot. The pressure was high for Canadian poker players to be crowned the champion. The tournament shines the spotlight on the talented Canadian poker players who are receiving acclaim on the world stage for winning major international tournaments. The tournament in Montreal is an exciting weekend in Canadian poker.
The first of a three day entry round began on November 29th. Players were able to buy and re-buy into the tournament. The required amount to enter the WPT Montreal Main Event was $3,850. By the end of the three day round 862 participants from around the world had entered the tournament.
Poker tournaments in Montreal are known to attract the top players in the poker industry. One of the big names this year was Antonio Esfandiari. He has already won two WPT World Championships and is high respected amongst fellow players. Esfandiari has accumulated the largest winnings in the history of poker tournament. Canadian fans were out to support the local player Sebastien Drolet-Poitras. By the end of Day 1C on Sunday, December 1st Drolet-Poitras had an outstanding performance that put him on top. He was the chip leader with 270, 8000 chips at his stack at the end of Day 1C and heading into Day 2. Sylvain Siebert from Kirkland Lake in Northeaster Ontrio was another Canadian player to watch out for. He also had a successful performance on Day 1C. Siebert finished in second place at the end of Day 1C with 230,500 chips. The competition was on between the two Canadian players in the lead at the opening of the tournament.