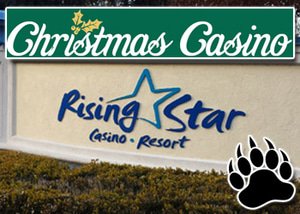 Fancy some gambling fun this holiday season? Well why not make your holidays even more magical at the world's first Christmas Casino in Rising Sun, Indiana.
The Rising Star Resort is hosting the world's first Christmas Casino and Santa is all set to bring this one of a kind holiday experience to the resort's casino by transforming it into a magical winter wonderland until the 3rd of January 2016.
Visitors to the casino will get to see Santa's stables where his reindeer are resting up in preparation for Christmas Eve and their round the world trip. You can even watch them on the special reindeer cam that has been set up. That's not all, once you step inside the resort's pavilion you will be greeted by Santa's elves who have prepared a very special Christmas tree. Once inside the casino you will find animated scenes that come to life as well as fairies preparing for Christmas.
Even the resort's Chefs are getting into the spirit of things and there are special Christmas dinners being prepared. At the Yuletide Inn, guest can enjoy Mrs. Claus' special stuffing with their turkey breast dinner. The Christmas Grand Theatre will also be getting in on the action with Lee Greenwood's Tennessee Christmas Celebration on the 12th of December and Marilyn McCoo and Billy Davis Jr. will be performing on New Year's Eve.
Take a look at the special presentation video from this amazing Christmas casino to see what all the fuss is about.