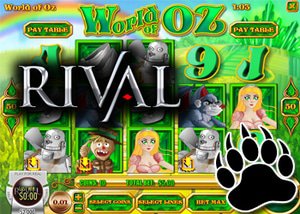 June 3rd is here so it's time to get swept up by a reel twister and whisked away to the World of Oz with Rival Gaming's latest video slot machine game release!
You can stop clicking the heels of your red ruby slippers, Dorothy, you're already home with this unique take on a cinematic classic in the form of the latest online slots game release from one of the leading online casino software providers. With five reels and 50 pay lines, there could very well be gold lining the path of the yellow brick road.
A Creative Slot Machine From A Top Software Provider
Hit the spin button and start your journey toward the Emerald City with Dorothy, Toto, the brainless Scarecrow, heartless Tin Woodsman, and the Cowardly Lion, the misfit and ragtag group who worked together to overcome the evil Wicked Witch and reveal the man behind the curtain. There's adventure to be had somewhere over the rainbow as you meet the Good Witch, Glinda, and other fantastic characters along the way.
World of Oz Slot Based On The 1939 Classic, The Wizard Of Oz
Aside from the unique art style for the characters whose faces appear as symbols, there's icons from playing cards from 9 through A that can combine to reveal the wonderful bonus features such as Multiplied Wilds, Free Spins, and the Emerald Spins Super Round. Get the Scarecrow his brain, the Tin Woodsman his heart, the Lion his courage, and help Dorothy and Toto return home to Kansas, back to her Auntie Em, and find yourself being rewarded all the way through the World of Oz.
Need a little more incentive that a hearty and welcoming song from the Lollipop Guild to get started on your quest to help these iconic characters get what they desire most? Both Golden Cherry and Play2Win are featuring this brand new game and offer players no deposit bonuses for $25 and $22 free, respectively. Head to one of these top shelf casinos and grab your bonus to get started today!