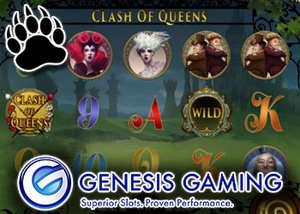 Today's gamblers enjoy a wide variety of slots, and Genesis Gaming aims to please with its brand new Clash of the Queens™ slot machine.
Now more than ever, people expect a fully immersive experience, whether they sit down for a game of online poker or a slot machine. The Clash of the Queens™ slot from Genesis will focus on several childhood fairy tales, and it offers up some unique gameplay, too.
About the Game
Clash of the Queens™ features five reels and 25 paylines filled with characters from classic fairy tales. Users can find it on the QuickFire network in both Flash and HTML5, meaning it is enjoyable from a computer, tablet, or smartphone. The graphics are simply stunning here, and the bonus experience is one that gamblers won't want to miss. In order to receive enhanced features, gamblers get to watch the White Queen and the Red Queen battle it out on a chessboard. Aside from this, the special effects are simply stunning, and users will find free spins, scatters, and power ups for things like double wins, wild symbols, and even a pick-and-click bonus round.
According to James Watson, the Director of European Sales for Genesis Gaming, people want new experiences in today's online slots. That is why two of the company's most popular bonus features are present in this single title; it gives players a chance to choose how they win. What's more, the Genesis Managing Director, Geoffrey Hansen, added, "In this particular game, we combine immersive scenery with these characters and we engage the player in the story by providing the power to choose. The connection between choice and the characters engages players deeply and improves the likelihood that they will return to the story and game, again and again.
Only time will tell if Hansen's predictions are true, but in the short term, it would seem that Clash of the Queens™ certainly has much to offer. It is available now from a variety of Genesis Gaming casinos.