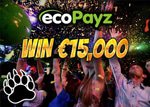 EcoPayz will end 2016 on a winning note with its Ecopayz casino promotion. This promotion is called the End of Year Celebration and is sure to generate plenty of excitement as 2016 comes to an end.
While it is already the season to thank everyone for contributing towards making 2016 a wonderful and successful year, most can't believe that it's almost 2017. For EcoPayz, it is time to reflect on the past year and enjoy the year's accomplishments for it is indeed the season to say thank you. To make sure Ecopayz rewards you well, you can expect its End of Year Celebration to be one filled with excitement and generous cash rewards. This is especially so for Canadians as it is one of the deposit methods for online players they love most.
While the company enjoyed great success during 2016, it is already looking forward to delivering online casino players with the best possible services in 2017, and to show its appreciation for the past year players can now win a share of $15,000.
To enter the End of Year Celebration, online players need to top up their EcoAccount with a minimum of $50.00 from the 28th of November through to the 25th of December to automatically be entered into the EcoPayz weekly draw. To increase your odds of winning, top up your online gambling account more often, since every time you use your EcoPayz account, and your deposit is worth at least $50, another entry goes into the lucky draw. Offering a convenient ecocard, Ecopayz makes withdrawing your winnings easy with ATM access worldwide.
The first draw takes place on the 5th of December and offers 25 winners each a prize of $100.On the 12th of December 15 lucky winners will each win $300, the 19th of December increases the prizes to $500 for 10 lucky players. Finally, on the 27th of December, three players will each walk away with $1,000.
The EcoPayz End of Year cash promotion is offered by PSI-Pay Ltd and starts on the 28th of November. Weekly prize draws take place one day after each weekly promotional period has ended. The Ecopayz casino promotion's week 1 runs from the 28th of November to the 4th of December, week 2 runs from the 5th to the 11th of December, week 3 from the 12th to the 18th of December and week 4 from the 19th to the 25th of December. Participants can top up their EcoPayz accounts with £50 GBP Sterling, $50 US Dollars, or €50 Euros to earn an entry into the lucky draw.
EcoPayz is accepted at many Canadian online casinos, including Jackpot City, so be sure to top up your account and increase your chances of winning! Good luck!