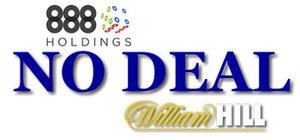 Despite initial indications that the purchase of 888 Holdings by William Hill would go smoothly, negotiations have fallen through due to a disagreement on a final sale price.
After some back and forth on more specific details of the deal, William Hill made a final offer of approximately $1.1 billion US, a valuation that placed their view of 888's shares around two pounds each. Unfortunately, the key shareholders in the company, the Shaken family, who also founded the Gibraltar licensed site, were looking for an offer closer to 150% of that.
A spokesman for the casino said, "Due to a significant difference of opinion on value with a key stakeholder, it has not been possible to reach agreement on the terms of a possible offer and the board of the company has agreed with William Hill to terminate discussions."
Shares in William Hill stayed relatively stable when news of the deal started to spread, with a rise of 0.6% that remained even after news of the breakdown in communication. Their intended purchase saw a huge leap upward with a 20% jump that fell backward by 14% after news of the deal not moving forward came to light. While not an ideal situation for a climb and fall of share prices, they still managed to see an increase.
Now that the deal has officially fallen through, it remains to be seen whether William Hill will reconsider it's position and take another swing at buying out 888 Casino, let them be courted by other potential buyers, or continue to operate completely intact and on their own.