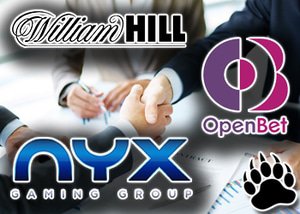 The UK's largest bookmaker William Hill has teamed up with a US gambling technology company in what looks set to be a £300 million bidding war for OpenBet. It is understood that Hills will be providing the financial backing for the NYX Gaming Group's bid.
Familiar Ground For NYX CEO Matt Davey
NYX are already a familiar face to William Hill. Although they are listed in Canada and based in Las Vegas, they provide gambling products to both Hill's and their rival Coral. In January 2015 they were floated on the Toronto TSX for CAD $45 million, and their present market capitalisation is around CAD $130 million (£65 Million).
NYX are far smaller than OpenBet, however led by their CEO Matt Davey they have prior merger and acquisition experience having done a deal in April 2015 with the purchase of Amaya Gaming's Chartwell & Cryptologic B2B software businesses. This followed their 2014 acquisition of Amaya Gaming's Ongame Poker business, and more recently they acquired the Montreal based game creators Side City Studios, as well as the Belgrade based tech company eGaming Consulting.
A joint funded bid would see William Hill prepare for their first acquisition in what is becoming a rapidly consolidating betting sector online. Hills have previously made a 1488 CAD bid for their rival 888 Holdings, but this offer was met with rejection by the 888 stakeholders.
As far as Hill's are concerned, they have only been the bridesmaid in the recent bout of gambling merger mania in the UK which has seen Corals and Ladbrokes getting married, Betfair doing a deal and amalgamating with Paddy Power, and GVC Holdings swallow up Bwin.party. Along with a number of of other major players in the UK it is reported Hills are uneasy at the prospect of becoming overly dependent on Playtech.
Since the start of 2016, OpenBet has been at the heart of industry speculation with regards to being a prime acquisition target. Many UK financial news sources are expecting the 'cash rich' FTSE listed gaming technology developers Playtec Plc to also make a bid for the firm, as they look to strengthen their foothold within the sports betting sector.
OpenBet who provide online betting platforms for the UK's top betting operations Coral, Ladbrokes, Paddy Power and William Hill, are being advised by investment bankers Morgan Stanley as their private equity owner Vitruvian look to sell their asset. It is reported that Vitruvian Partners are considering offers for the company in the region of between 500-600 million CAD.