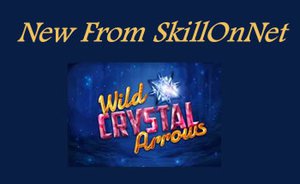 SkillOnNet is a big player in online casino gaming and will get even bigger with new content in 2015, such as their Wild Crystal Arrows slot which they've released early.
SkillOnNet's latest release, Wild Crystal Arrows, is a slot machine with as much care and attention to detail behind it's creation as the 50 games already available on their desktop platform and the much anticipated mobile platform for iOS and Android devices that is on the horizon. The games are also playable throughout the casino industry through SkillOnNet's online casino partners. With this addition to their lineup coming out early, a small glimpse has been offered into what the company has in store for gamblers worldwide in the upcoming year.
SkillOnNet's spokesman, Andy Andrews, spoke about the new game and the company's vision in addition to press releases about the game. He said, "we are full of anticipation for the release of the slot machine Wild Crystal Arrows and has full confidence that the players will love its unique multiplier mode. Our latest game, Ninja Master, has quickly proven to be a great success and there are no reasons to believe that this would not also be successful. And the good news is that there is much more going on."
The game itself seems simple at first glance, five reels with fifteen pay lines, but the complexity that makes it fun as well as the chances at some amazing prizes quickly become apparent. Hitting two arrows gives the player up to a 500 times multiplier against their wager. Landing three arrows on the reels awards ten free spins which give the chance for additional free spins after triggering the same combo again. These new play features give high rolling players the chance to take home huge wins since the top jackpot seems only limited by the bet being placed by the user.
The game has already rolled out on the desktop platform for SkillOnNet as well as the desktop and mobile venue provided by their most popular casino Slots Magic. Moving forward, the game will also be hosted by other high end casino sites through SkillOnNet's business to business platform network, meaning that even more player will have the chance to gain some amazing wins with the unique play style of Wild Crystal Arrows.