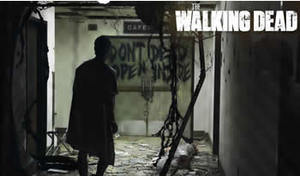 The Walking Dead has become not only a phenomenon on AMC's television channel and their website but now the virus has infected the online casino world as well!
Fans of the show and the zombie genre in general now have a new outlet for their blood thirst and need for undead carnage, as well as a little human drama on the side with the release of the new The Walking Dead licensed video slot machine from Aristocrat Technologies. It is lurching onto the scene across several major but exclusive brick and mortar casino sites.
With scary clips from the show itself paired with exceptional graphics for the player interface, the machines are sure to draw in players of all sorts of all levels of interest in the subject material. The selection of sound effects and music to accompany the playing experience help to complete the immersive atmosphere that the game offers for anyone brave enough to step up and test their luck against the undead hordes. The game features two different reels in the play space. The first being the CDC wheel which acts as a bonus multiplier wheel which can turn small and modest winning into huge hauls. It also has the chance to trigger the Grenade bonus mode where bonus prizes are revealed through explosions. The main wheel for your undead adventure is the Atlanta Wheel, so named because that's where the show itself is filmed.
In order to appeal to players of all experience and risk levels, The Walking Dead offers itself as a penny slot with a cheap buy-in, making it appealing to players just starting out on their adventure and those who are well versed in casino play. Pairing this with the amazing top jackpot of a half million dollars is set to get those wheels spinning.
There is much hope across the online gambling community and fan base that the game will make the jump to mobile and PC accessible casinos for players on the go since Aristocrat has deals with several big name online casinos as well. Just two of the places where we can hope to see The Walking Dead video slot machine in the future are Jack Gold Casino and Bet365 Casino. Bringing this game forward to the online player pool would be a forward thinking move by Aristocrat as the market has been growing year over year without fail and would give even more players and fans the chance to play if they aren't able to travel to the exclusive land-based casinos where the game is currently housed.