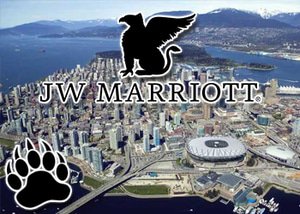 In a move to boost Vancouver's reputation as a major travel destination, BC Place Stadium is getting a major neighbor.
What do all of the best casinos have in common? They're great entertainment with everything you need all within walking distance. That's exactly the same philosophy that's being used in Vancouver right now with a new addition next to BC Place Stadium that's seeing the first JW Marriott hotel opened in the province. This is a pretty big deal for the city of Vancouver, and it just goes to show that they're working hard to maintain their current image for travel and cultivate an even stronger one.
The idea behind this is to add 62,000 square feet of event space, a new record for the largest ballroom in Vancouver and a few hundred hotel rooms. The center of this project is being called "parq," and it's going to house the hotels and convention centers. The first hotel will be a JW Marriot with over 300 combined rooms and suites. Beside of that will be a new hotel called The Douglas, named after Canadian explorer David Douglas. This property will also be operated by Marriott, and it will have a little under 200 rooms and suites. What will help to set The Douglas apart is what they're calling the living lobby that really highlights David Douglas' contributions to botany. This is sure to be a big attention-getter in the new "parq" area.
Edgewater Casino is going to have a new home in all of this as well. With such a good location with two new hotels and tons of entertainment space, it's the perfect place for a high-profile BC casino destination. This project is sure to bring in tons of people to the city and help them to accomplish their goal of being competitive with the largest travel hot-spots in North America. If they do everything that they say they're going to do with this space, there's no doubt in anyone's mind that this will be the case. However, we'll have to wait and see what happens with this project and what the aftermath is in terms of popularity before we'll be able to draw any concrete conclusions.