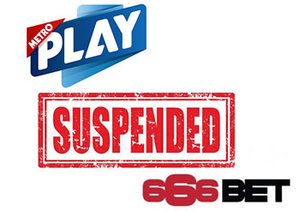 The Gambling Commission in the United Kingdom has suspended the license of 666bet/Metro Play Ltd. after tons of reports of slow payments.
In the United Kingdom, if there is some sort of problem with payments in an online gambling site, then the players have a very straight-forward recourse. All they have to do is complain, and these complaints are investigated. Tons and tons of complaints came in about slow payments for 666bet operated by Metro Play Ltd., and their license was recently suspended by the Gambling Commission.
This is a great example of the government taking action when it needs to in order to protect the integrity of the games and of its licenses. When things like this happen, people trust that the licenses actually mean something other than a rubber stamp that governments use to get a piece of shady online gambling revenues. It also provides a bit of leadership to the rest of the world that shows legitimate online gambling licensing and regulation can happen.
Canada could learn a lot from this. This is a country that has a long history of trying to turn everything into a government monopoly for whatever reason, and that approach has already been shown not to work with online gambling. They think that this type of monopoly is necessary to protect their players, and that's one of the big arguments against allowing foreign operators to gain licenses to operate in Canada. However, the United Kingdom has shown that this model can work, and they're proving it right now by pulling the license for 666bet.
This monopoly mindset is really losing out in the online gambling world, and you can see that in a major way with how all of the provincial online gambling sites are more or less failing miserably when it comes to gaining a piece of the market. It's simply not fair to expect the provinces to be able to compete with established brands when they have so much going against them.
The Canadian government needs to change the law so that the provinces can license foreign operators instead of being restricted into running their own games instead of trying to reinvent the wheel and beat companies that have decades of experience in this industry. Simply put: It's not going to happen, and their tiny market share is proof of that. Instead of going against the grain, it would be the easiest thing in the world to just allow licensing of this type, take a reasonable amount of taxes and keep a lower overhead with better levels of revenue.