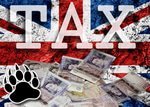 There's bad news in store for online casino and online gambling sites in the UK today as several newspapers report that taxes are to be placed on casino freebies.
Several newspapers in the United Kingdom have reported that the government is planning to move ahead with taxing free spins and bonuses offered by online casinos. This will include no deposit sign up bonuses which are often used as a marketing incentive to encourage new sign-ups. The government's plans are expected to impose an additional burden of £100 million on the online gambling industry and this really is bad news for the industry today.
Free Spins and No Deposit Bonus Taxes for Online Gambling in the UK
The UK government has clarified its position and provided a reason for this taxing initiative. It has pointed out that the bonuses and other freebies given by land-based sports betting operators are already subject to tax. Therefore in a bid to level the playing field between online gambling and land-based gambling the online freebies which include free spins and no deposit bonus offers will have to be taxed. The Revenue and Customs department plans to enforce the additional taxes and they will come into being from autumn 2017.
Opposition To Taxes on Online Casino Freebies
Clive Hawkswood, chief of the Remote Gaming Association, has criticized this move pointing out that the government had budgeted tax revenue of £300 million from the point of consumption taxes being levied on offshore operators by way of 15% Remote Gaming Duty. The industry is already paying double the amount and Hawkwood explained this by saying, "Since the tax was introduced, the industry has been growing by about 10% a year, which has contributed to the higher tax receipts."
His estimates have also been supported by independent data. A smaller online gambling bookmaking company, that requested to remain anonymous, revealed that the point of consumption tax was already costing it £10 million per year. The larger industry companies are paying much more. Public records have shown that William Hill paid £54 million last year.
Observers in the online gambling industry have described this move as a hidden tax and they feel that it will have a negative impact on smaller operators. This could, in turn, lead to consolidation among online gambling companies and the smaller operators will be acquired or merged with larger ones. The effect of this will be reduced competition and will result in online casino players receiving fewer incentives. Incentives will also be reduced by online casino operators in a bid to reduce the new tax too.
It really isn't good news for online gambling operators and it could prove detrimental to gambling in the UK.