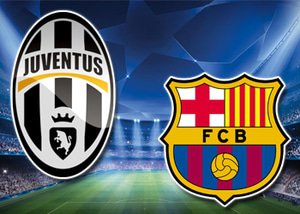 The 2015 UEFA Champions League Final was predicted by many to result in an all-Spanish affair as was last year with Real Madrid ending up eventual winners over Atletico Madrid.
Many had even tipped Real to become only the third back to back winners, a very rare feat not accomplished since British clubs, Liverpool And Forest way back in the 70's.
It's Official! The UEFA 2015 Champions League Final: Spain Vs Italy, Barcelona Vs Juventus!
So what exactly happened in the Semi-Finals, how could one of the competitions favorites, fail at the final hurdle in their 2nd leg tie at home at the Bernabeu in front of a crowd of 78,153 cheering supporters, of which only 4,000 were from Italy?
Their big stars failed to make an impact, in short! Let's take a look at their rivals from Barcelona and how they overcame this year's German Bundesliga 2014/2015 Champions Bayern Munich.
Barcelona (-300) To Spice Up Berlin Final - It Could Be A Steal! Heavy Favorites
Losing the first leg at the Camp Nou in Barcelona in the first leg on Wednesday May 6, with the home side scoring 3 goals, it was never going to be easy for Bayern Munich, but coming away completely empty handed left them an insurmountable task in the second leg at the Fußball Arena München, Munich on Tuesday May 12, 2015.
Bayern managed to salvage a little bit of respect winning the 2nd leg tie 3-2, but after manager Pep Guardiola's unhappy return to the club he won 13 trophies for in 6 years, it was little consolation.
It has to be said with such an attacking strike force of the 3 amigos, namely Messi, Suarez and Neymar, who scored the 2 goals in the second leg, is there really anyone who has an impenetrable force shield to hold such attacking weaponry at bay?
Juventus (+200) A Defensive Rear-guard Capable Of Springing A Surprise?
A little bit of history. In 2006, Juventus were one of 5 Serie A teams to have been found guilty of being in collusion with match officials, i.e. match referees, in the fixing of matches.
As a result the "Old Lady" as they are called, was stripped of their 2005, and 2006 Serie A titles, deducted 9 points, and had to play their first 3 games behind closed doors also being relegated to Serie B.
Most of their star players left (surprise, surprise,) but one was to remain and is now regarded as their hero, now 37 year old international goalkeeper Gianluigi Buffon. He has since gone on to win more trophies with Juventus, but never the UEFA Champions League Final (Juve, last won it in 1996).
Juventus have already sealed Champions status in their domestic league and in International competitions, the Italians are well known for their very strong defensive aptitude, know-how and mentality, one only has to look how they dispensed with Ronaldo and Real Madrid over the two Semi-Final legs.
But Barcelona, and the triple threat of Neymar, Suarez and Messi? Can they really do what Chelsea did when they too beat Bayern Munich in 2012 like Barcelona just have, is that really possible? Certainly, if all three have an off day! Are you ready to bet on it?
The UEFA Champions League Final between Barcelona and Juventus will be held at the Olympiastadion Berlin on Saturday, June 6, kick-off at 20:45 CET, 14:45 EST. It can be seen on major TV sports networks, check local TV listings for availability.