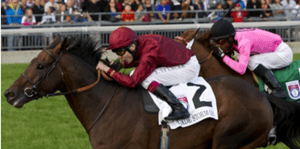 After failing to capture the prize last year, Trade Storm and trainer David Simcock returned to claim the $1 million dollar prize at the Ricoh Woodbine Mile on Sunday, Sept. 14.
Trade Storm, ridden this year by jockey Jamie Spencer, claimed the lead after what looked like a disappointing start and held out against a challenge from Kaigun to cross the finish line first out of the 11 horses on the field. The final winning time was 1:36:87, nowhere near the fastest time at Woodbine Racetrack but fast enough to grab the $600,000 winner's share. In addition to this nice cash prize, the win also secured Trade Storm's place in the Breeder's Cup Mile to be hosted at the Santa Anita track in Arcadia, California, on November 1.
Without last year's winner Wise Dan on the track, Trade Storm was able to settle into a good pace. He also came into the race in better form following participating in a number of higher-graded races. The quality competition and training certainly showed. The race looked like a possible disappointing show at the three-quarter-mile mark when Trade Show held ninth, but he recovered nicely in the deep stretch to pass Kaigun and claim the cup.
Following Trade Storm and Kaigun was Bobby's Kitten, who barely beat out River Seven to claim the third spot on the podium. The two were so close victory had to be determined by a photo finish. The rest of the pack consisted of Grand Arch, Lockout, Dorsett, His Race to Win, Jack Milton, Silver Freak, and Ancil.
Trade Storm is owned by Qatar Racing Ltd., a racing stable connected to the Qatar royal family. Spencer, after riding to victory, is set to retire when this season comes to an end to take a management position with the stable. The Ricoh Woodbine Mile win brings his total to six victories and puts his all-time winnings over the $1.49 million mark. Simcock and his team plan on returning to Woodbine next year to define the title.
Trade Storm wasn't the only big winner that day. Stablemate Sheikhzayedroad scored the win in the Northern Dancer Stakes, a Grade I race worth $300,000. He overcame a foul claim to finish in front of Dynamic Sky. This was the third straight victory for the five-year-old. He had a final time of 2:32.37.