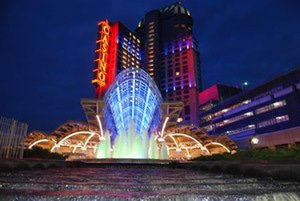 A Toronto woman has learned that at Fallsview Casino, sometimes a small bet and a little time invested is all it takes to become an instant millionaire.
Casilda Pouk, a 51 year old resident of North York was visiting the Fallsview Casino in Niagara Falls with her cousins when she sat at the Mighty Millionaire slot machine with $20. Three minutes worth of spinning later, she was the winner of $1.039 million dollars. This win comes after more than a year of not visiting the casino and serves as proof that even those who aren't regulars can hit it rich at the slots.
Greg Medulun, spokesman for Niagara Casinos, said that they 'couldn't be happier' for her and recalled some other instances when the casinos in the area paid off big for players. One of those happened for a retired nurse's aide on Valentines Day in 2002 with a $5.6 million megabucks payout, which he mentioned after quipping, "There's something extra lucky about Fallsview Casino and Casino Niagara and the month of February."
Another example of a huge win, the largest jackpot ever taken from a slot machine in Canadian history, was the October 2004 $5.8 million take for a player while then Prime Minister Paul Martin was at the Fallsview Casino for the Annual General Meeting of the Liberal Party. "Big jackpots are a part of the experience at Fallsview Casino," he said. "It's a reminder that you just never know what could happen when you come and play with us in Niagara Falls," Medulun said.