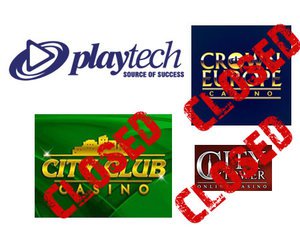 Not all online casinos are able to handle the changes in the regulatory side of the industry, and three sites are closing because of this.
The legal side of the online casino world is always going through changes, and while there are some establishments who have been able to make the necessary changes to stay afloat while this is going on, that's not the case for all of them. At the beginning of 2015, three well-known casino sites that operated using the Playtech software closed down. These sites included City Club Casino, Crown Europe Casino and City Tower Casino.
If you were affected by these closings, or if you're worried about closings that could come in the future, then we have some recommendations for you when it comes to sites that have handled these new regulations in better ways. For Canadian players, we have to recommend Sports Interaction Casino. They use the same software as the three sites who have closed down, and they have a long track record of making the necessary changes to stay at the head of the pack. Italian players could also go with Casino Titan as a good option.
It's easy to understand that some businesses will succeed while others do not, but as a player, it can be particularly inconvenient to have to move from one site to another after an establishment that you've gotten used to has to close its doors. We want to help you to avoid that, and this is why we've recommended two of the Playtech-powered online casinos with the best reputations above.
Instead of everything being based on a global economy, the online casino world has become much more about serving local markets. Each country (and sometimes areas within a country) will have their own regulations, and sites that break things down in a way so that each country is getting its own specialized service will be the ones that survive all of the changes happening to the legal landscape in this industry. Overall, it'll be interesting to see what other sites close down in 2015 and how well the old guard of well-regarded staples in the business are able to adjust to more changes as they come.