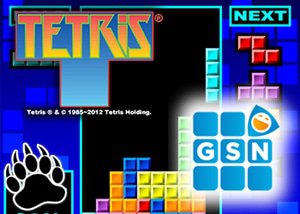 It has recently been announced that the Tetris Company in conjunction with GSN Games one of the leading providers of cash tournaments and social casino games, are launching Tetris Burst, the very latest iteration of one of the most recognizable and addictive video games ever to be created.
Tetris Burst is the very first official Tetris game that will now allow players to participate in skill-based Tetris tournaments. Here they will be allowed to play against other WorldWinner players for an opportunity to win some real cash prizes. This new focus will bring a fresh new fun experience to this iconic puzzle game. It still remains the good old Tetris game that everyone knows and loves, but now it has a flavorful and potentially profitable twist, for players who want to take their game to another level and have honed their skills.
First Official Tetris Game Skill-Based Tournaments - For Cash!
The challenging Tetris gameplay with the object of clearing lines from the game's matrix, all takes place in a lush rainforest that players are whisked away to. With Line Clears filling up the Juice Meter, three new power-ups are unleashed, Juice Wave, Double Up, and Mino Shower.
Sole agent for Tetris, President and CEO of Blue Planet Software Maya Rogers, said that their company are working continuously, to enable them to bring new Tetris experiences to its ever-expanding legion of fans.
The President went on to say that with the introduction of Tetris Burst which now gives players the exciting opportunity to put all their Line Clearing skills to the ultimate test and in the process collect these new cash prizes, they had developed an exciting addition to their growing line-up and ongoing expansion of Tetris-branded games.
General Manager and Senior Vice President of Skill Games at GSN Games Greg Canessa, said that it was an honor to become a part of the Tetris brand's legacy, with the opportunity to continue the ongoing tradition of creating and delivering new ways to play the iconic game.
With Tetris being one of the most popular games in the world with hundreds of millions of fans, he said he knew that both current and new players alike will be thrilled with the chance to see how well they measure up when playing in cash tournaments against other Tetris Burst players.
As a side note, cash tournaments will only be available where legal, and all players must be at least 18 years of age to enable them to compete.