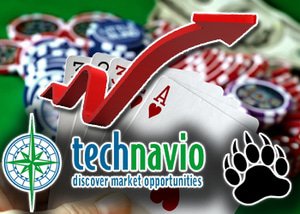 It's no surprise that mobile is the fastest-growing segment of the online gambling industry, but demographic changes aren't as obvious.
A new report published by Technavio has pointed out a number of things that they predict will happen over the next few years in the online gambling market for the United Kingdom. Among those bold predictions is that mobile gambling will increase over 13 percent between now and 2019.
Mobile Online Gambling in the UK
Though their report refers to it as "remote gambling," one of the main points that they focus on is that the shift to mobile, that everyone in the industry recognizes, has also helped to spawn a shift in the demographics of players. While gambling has mostly been men in the past, women are starting to gamble more and more thanks in part to the mobile growth that we have seen over the past few years. What's also interesting is that wider age ranges of both men and women are playing more.
Regulatory Shifts
One of the biggest online gambling stories to come out of Europe in the past couple of years had to do with the big changes that the UK made to how they taxed and regulated online gambling. Because they have taken a much stronger stance now, it has helped the image of online gambling, and this has made it more socially acceptable. This is another reason why they're seeing growth with women and other demographics that don't typically gamble all that often.
Market Implications
Between the new regulations and the mobile revolution, the market is changing quite a bit in the United Kingdom. They're looking at a total growth of over five percent for the industry leading up to 2019, and they're also looking at a 13 percent growth in mobile. This shows that the industry as a whole is still growing, but it also shows that mobile is largely leading the way. It'll be interesting to see how social game tie-ins and new ways of presenting games contributes to the boost of women and other non-traditional demographics to the overall player pool when it comes to gambling online.