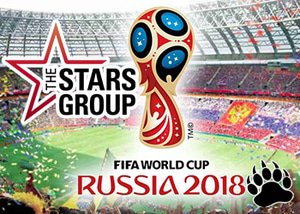 The Stars Group has launched an exclusive promotion offering customers the opportunity to win £100 million ($135.7m) during the 2018 FIFA World Cup.
The Canadian based gambling company, trading on the Toronto and Nasdaq Stock Exchange, has recently launched the 'Stars £100 Million Challenge'. This promotion is considered the biggest prize in the history of sports betting and will run across several brands, including PokerStars Casino and BetStars Sportsbook.
The £100 Million Challenge
The £100 Million Challenge is a free-to-enter FIFA World Cup promotion and is open to sports betting customers across the world. Up to £100 million will be awarded to a customer for a flawless win-draw-lose prediction on all 64 FIFA World Cup matches, running from June 14 to July 15.
Apart from the £100 million jackpot prize for a flawless prediction, the player who can predict the second highest number of matches correctly will be awarded a $10,000 cash prize, as well as a Platinum Pass to the prestigious Players No-Limit, Hold'em Championship hosted by PokerStars in January 2019. The Platinum Pass is worth $30,000 and includes a $25,000 buy-in to the PSPC, $2,000 towards travel and expenses, as well as accommodation at Caribbean's top vacation resort, Atlantis Paradise Island.
Every eligible player will have one free entry into the promotion, but players can also be rewarded with additional entries complete challenges and play casino games at PokerStars and BetStars Sportsbook.
Those who participate in the Stars £100 Million Challenge will be added to a leaderboard where points will be awarded for every correct prediction during the World Cup. The top 1,000 players will receive a selection of sensational prizes, including free bets at the BetStars sportsbook. There's also loads of other World Cup promotions available across the Stars Group, such as exclusive Odds Boost selections at BetStars. Terms and Conditions apply.
Stars Group's Ambassador
The £100 Million Challenge not only offers the largest prize in sports betting history but also introduces the first multi-brand ambassador, popular TV presenter and former cricket star, Freddie Flintoff. Flintoff, who is a keen poker and sports fan, will represent the company across casino, sports, and poker. Danish TV star and comedian Casper Christensen along with Per Morberg, the Swedish celebrity chef, will also appear in campaigns for the World Cup across the Nordic regions.
About The Stars Group
Established in 2001, The Stars Group, previously known as Amaya Gaming Group, is an online gambling company situated in Ontario, Canada. The company offers and produces online gambling services and products including a sportsbook, casino, and poker through Stars Interactive, its online gaming division. These brands include Full Tilt Poker, BetStars Sportsbook, PokerStars Casino, and PokerStars.