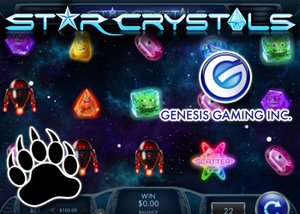 Sky Vegas and Genesis Gaming have moved into an exclusive content arrangement that will allow for the release of the brand new Star Crystals Slot game being offered to all players of their online casino.
An Alien Adventure With 243 Different Ways To Win
The new Star Crystals Slot game is a 5 reel video slot with 243 ways to win. It is available now by virtue of the OpenBet platform and features a Free Spins bonus round as well as multiple random features.
Genesis Gaming designed this fun new galactic science fiction themed game to be played as a 5 reeler, and have made it readily available for both desktop and mobile users alike.
This colorful and appealing slot game is optimized for both flash format and HTML5, and offers players 243 different ways to win. There are also multiple features that can be activated at random along with a Free Spins bonus round, which comes into play whenever three or more bonus symbols are on display.
Star Crystals takes the player on this alien adventure that evolves around a galactic mission to join up forces with Naroony, and protect the star crystals from the lurking enemy called the Groks. The first impressions playing the game for the first time on demo was that the visuals are impressive, and the soundtrack is perfectly aligned with the game and is calm and non-evasive.
The graphics are clean and crisp and the game moves along at a nice speed in flawless manner. There are plenty of different interactive features, and the game does a good job keeping players entertained.
The game features Alien organisms that are called Extremophiles, and these sometimes get trapped in the enigmatic star crystals, that get propelled into space following planet collisions that harbour life.
The Naroony are a special kind of robot specie ordered into action by the Space Protection Agency (S.P.A.) to protect and guard the star crystals from potential intergalactic poaching by the greatly feared Groks, a cyborg alien race whose mission is to hunt down star crystals.
Head of Global Design for Genesis Gaming Scott Sims said the Star Crystals Slot game had much to offer for both serious and casual gambler. He concluded that there are many frequent modest wins with entertaining random features for the casual player, however it's significant bonus feature can result in massive wins for the serious player.