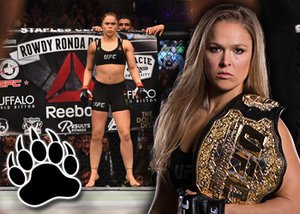 The UFC 193 main event took place on Saturday, November 14, 2015 with an utterly shocking win that wasn't expected.
There was a lot of hype and build up to the MMA fight between Rousey and Holm with bookmakers placing their odds in favour of Rousey to take the title. There was banter between the two opponents prior to the fight with Rousey getting up into Holm's face and the pair having to be separated. The fight itself was incredible to watch and no one had given Holm much of a chance at least not publicly, so the biggest shock of this year has to be the fact that not only did Holly Holm flatten Rousey, she did so in the second round in a manner that could never be classed as just fluke.
Holly Holm, the underdog in this MMA fight, scored a savage and utterly shocking headkick knockout in the second round of the UFC 193 main event, taking out her opponent and firm favorite to win Ronda Rousey. It really was a jaw-dropping finish and it will more than likely go down as the biggest MMA upset especially for sportsbooks who took a major loss. Holm handed the unstoppable Rousey her first professional loss of her career to become the new UFC women's bantamweight champion.
UFC 193 Rousey v Holm MMA Fight Sets Attendance Record
The UFC 193: Rousey vs Holm main event took place inside Etihad Stadium in Melbourne, Australia. It was expected to set the organizations attendance record and it certainly did. A total of 56,214 spectators filled the stadium to witness Holly Holm take the women's bantamweight title by knocking out Ronda Rousey in a spectacular second round headkick.
Sportsbook Incurs Huge Losses as Holm Takes the Title
Sportsbooks had placed Rousey as the favorite for this fight and there was no bigger shock than seeing her fall to Holm in a spectacular knockout. The fight wasn't even close. Rousey chased Holm around the cage for the whole of the first round and again into the second. Well for as long as that round lasted anyway. Holm, meanwhile took control with precision strikes, turning Rousey's nose into a bloody mess. And even then Rousey didn't adjust her gameplay. She didn't even seem to put her hands up which really isn't a good idea when facing a former professional boxing world champion.
Ronda Rousey getting knocked out by Holly Holm really is the sports shock of the year but from a bookies viewpoint it was essentially like being hit by a truck. Sports Interaction is one such bookie and they never seen this coming. According to them, the Rousey v Holm book was an exceptional case because Rousey is such as star her price was reflective of public support more so than it was of her chance of beating Holm. And because Rousey was a short price, Holm had to be a big price which looked like value to MMA bettors who knew their stuff and to the casual bettors who thought why not gamble with the underdog. With Holm taking the title, Sports Interaction took a big hit and one that was worse than Rousey. So in this case, it really was a case of bettors winning big and sportsbooks losing.
Rousey Favored in MMA Fight Rematch
Now here's another big shock. Despite the fact that Rousey suffered defeat at the hands of Holly Holm last Saturday, it seems that bookmakers like Rousey's chances of winning a rematch. This really is a strange decision considering the spectacular nature of Holm's victory as well as the record financial losses that many sports book incurred including those of Sports Interaction. What do you think, will you be going with the favorite if there is a rematch?