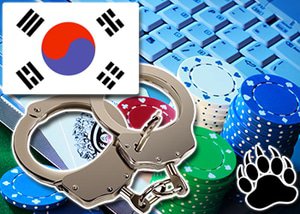 Authorities in South Korea are looking to impose a life sentences on those found guilty of operating illegal online gambling sites.
It has been reported that South Korean police officials have announced harsh new attitudes towards online gambling operators. According to a South Korean media outlet, illegal operators could now be charged with organized crime and this carries slightly higher penalties for those convicted. The news came from a National Police Agency spokesman who was spoke with the media outlet.
Illegal online gambling operators had been subject to charges of opening an illegal gambling site, which carried a maximum sentence of seven years in prison and a KRW 70m (US $61K) fine, but under this new regime, site operators could be charged with organizing a criminal group and if found guilty could spend the rest of their lives behind bars. This is very different from the legal gambling laws in Canada where gambling in one form or another is permitted everywhere and regulated by each of the countries provinces. Everything is based on the Criminal Code which does not specifically make it illegal to gamble online. To date, no person has ever been charged for online gambling in Canada.
Police have stated that this change is necessary as many of the illegal gambling sites that they remove are run by organized crime rings. Software programmers and site managers will be labelled as accomplices and web hosting services that knowingly accept business from such gambling establishments will be charged as abettors.
In a bid to discourage traffic to these sites, police are also boosting penalties for gamblers. South Korean law already stipulates punishments for these offenders who activity is considered "habitual" or whose wagers are larger than average, and a prosecution official was quoted as saying that authorities will now charge all gamblers without exceptions regardless of how often they take part in online gambling or how much money they wager.
Those who have been arrested including an online gambling ring that allegedly handled KRW 16b ($140m) in wagers over the past four years and we're sure they are going to be celebrating the fact that the laws haven't changed just yet and the maximum sentence they will receive will be seven years. In Canada, the government does not grant online gambling licenses to site operators, and it is illegal to run an internet site in Canada itself with the exception of provincially approved sites. On the other hand though, the government does not police online gambling in Canada and residents are able to play on any site they choose once they are registered offshore.