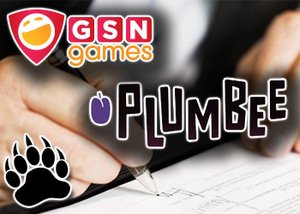 It has just been announced that Sony's GSN Games, have acquired Plumbee a rival social casino studio for an undisclosed amount.
This acquisition is a further sign of consolidation in their social casino games operation a sector which in 2015 alone, generated $3.3 billion in revenues, according to market analysts Eilers Research.
GSN Games Increase To Seven Locations Across The Globe
Eilers stated that the top ten gaming publishers in the social game sector held approximately 72 percent of the market in the fourth quarter of 2015. Now UK based Plumbee will become GSN Game's London studio.
Established in 2011, Plumbee are best known for their Mirrorball slots app that has been downloaded over 10 million times on mobile devices and Facebook. Plumbee's employee force which consists of 44 employees have a track record of producing games for social casino audiences that mainly consist of older females, who visit social networks such as Facebook on their desktop and mobile devices. GSN in total already have 525 employees.
Plumbee secured $16.8 million in funding from Idinvest Partners and Endemol, and Steve Brunell Chief Operating Officer of GSN said in a statement that the acquisition will immediately bolster the company's growth ambitions with the leveraging of Plumbee's social online casino expertise, along with top talent to create "best in class winning experiences" for their players.
Brunell further added that they were excited about their expansion into the United Kingdom and said they will be looking to capitalize on the "high concentration of world class gaming talent" to supplement their outstanding Plumbee team.
GSN have been on a bit of an acquisition spree of late, with just last year acquiring Idle Gaming makers of Slots of Fun and Fresh Deck Poker, for a reported estimated $10 million. That deal also added another location by giving them 20 employees in the Ukraine and San Francisco.
CEO of Plumbee Raf Keustermans enthused how delighted his company was to join the growing ranks of GSN, as they develop a growing force in the social casino space that currently rank in the top five publishers worldwide.
He added that they look forward to adding their engineering, art, analytics, product management and marketing expertise to the current scale stability and talent that already exists at GSN, to further create industry leading social casino experiences.
About GSN
GSN Games is a multimedia entertainment operation that offers both classic and original competitive entertainment and programming across its 80 million subscriber online gaming sites and TV network. They operate the GSN Casino, Bingo Bash, and an assortment of social casino games.