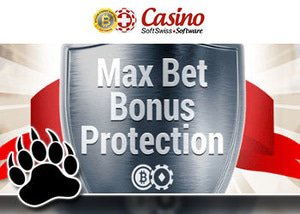 SoftSwiss has completed the implementation of its Max Bet Bonus Protection feature, one that is making the lives of players far easier.
The feature allows players to set max bet limits when playing with a bonus that is active. Generally, casinos will not have such an option and require players to limit the size of bet and monitor this on their own. It can, at times, see some forfeit winnings without realizing they exceeded the amount they were permitted under the terms of a bonus.
The advantage is that this feature will act to protect those who fail to read terms and conditions of bonuses and are not aware of max bet terms that pertain to the bonus they have chosen to accept. When breaching those terms, the casino may elect to refuse payment of winnings and remove any remaining bonus monies.
SoftSwiss Max Bet Bonus Protection Advantages
SoftSwiss Casino operators have seen this occur multiple times where players have mistakenly or chosen to hit the max bet button. The result saw problems arise with unhappy players complaining they were unaware of the terms and felt the forfeiting of winnings was unfair. As a result, SoftSwiss undertook the challenge and created the new SoftSwiss max bet bonus protection feature. This will automatically alert players when they select max bet and will advise them that they reached the limits in the amount they can wager on any given spin or hand. It, in essence, will prevent players from exceeding max bet limits and prevent further discrepancies.
Another aspect of the Max Bet Bonus protection feature is it removes this as a problem for casino operators. It can be, at times, challenging for a casino to determine if a player exceeded max bet terms purposefully or accidently. This is a time-consuming process for the operator to undertake to ensure all players are treated fairly.
Upon its release, SoftSwiss stated they believe this is an important feature and one that is not common in the industry. To date, only several software operators offer a feature of this kind, and with the addition of SoftSwiss, players now have a highly technical feature that is simple to adjust within the background for operators. The company feels that any improvement to the overall operation and features of its software is welcomed by both operators and players and will increase loyalty towards both.