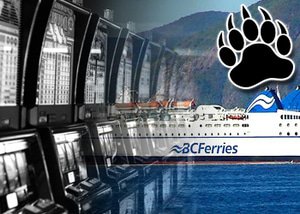 Nearly two years after being proposed as an additional source of income for the province, plans to put slot machines on ferries operating in British Columbia have been scrapped.
Those looking to spin and win a little as they travel between Vancouver Island and the lower mainland of the province of British Columbia are out of luck as the proposed idea of adding slot gambling machines on ferries as a revenue stream have dried up. Chief among the issues that came up were the working costs which would see the program operating at a loss instead of contributing.
No Slot Machines For Ferry Travelers In BC
The findings of the business analysis behind the cancellation being done by the British Columbia Lottery Corporation saw just shy of a quarter million dollars being added to the wrong side of the province's ledger. This number was tallied up from foreseen losses incurred through the costs of the equipment itself, staff to oversee the machines, and IT services needed to keep them running as well as potential sharing with Washington State as some routes travel American waters.
Safety concerns also came into play with issues such as children being left unattended or with lessened supervision by parents who choose to partake in the offered games as well as the possibility of fights or disputes over winnings. The report states that these, "...issues carry the potential to damage the reputation of BC Ferries and BCLC, as well as cause delays in the boarding and disembarking of passengers on the vessel." The province is willing to remain open to other suggestions and trial programs to grow their income despite this cancellation.