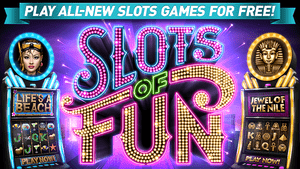 The latest in new releases from San Francisco based social game developer Idle Gaming is Slots Of Fun.
This still relatively new Facebook app has seen success already with it's two previous game releases, Video Poker Tour and Fresh Deck Poker so we know we can expect more good things from this most recent addition to their roster.
Already boasting an impressive user base of over 50000 players, the game's description throws down a couple of puns to aptly describe the game's experience, "REAL Slots. REEL Fun!...It's like playing in Vegas any time you want!" A great fit for the modern generation of free-to-play video slot games, Slots Of Fun displays fantastic animations and a sharp understanding of what social gamers are looking for in their online casino experience.
This 5 reel game has plenty of scatters, wilds, and bonuses available for every spin through the starting lineup of ten slot machines. Each one is unique from the next with such titles as Roaring Reels, Life's a Beach, Royal Riches, Spooky --Spins, Jewel of the Nile, Lucky Spin Se7ens, and a mystery machine which is coming soon. Free spin bonuses can build up to at least 99 at a time with lots of fun extra games on the side to further crank up the scores. If that's not enough to get new players hooked, there's also a Daily Free Spin of a prize wheel which can award players with hundreds of thousands or even hundreds of millions of coins to further the game alongside others offers which give away free in-game currency. The built-in level system which unlocks new slot games and new features to expand possibilities with the app is a popular point, as is the achievement and trophy system.
Slots Of Fun is available now from Idle Games for iPhone and iPad through iTunes and Android devices from the Google Play Store.