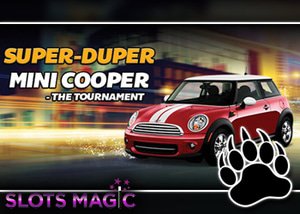 The chequered flag is out, and all the tournament preparations are done so players are warned well in advance to get ready for the tournament race that could see them drive away in a new Mini Cooper.
Taking part in the new Slots Magic Super Duper Mini Cooper Casino Tournament involves only three steps. Simply log in, play the tournament and then win the Mini Cooper.
Be race ready by the 27th of July 2017 since the Super Duper Mini Cooper tournament continues until the 31st of August 2017. Earning a ticket will cost £1.00 and will activate 20 tournament spins on Ninja Master. Tickets can be bought with a deposit from the Super Duper Mini Cooper tournament or directly from players balance, and there are no limits on the number of entry tickets. One free ticket is available daily for all Slots Magic Casino members that have made a deposit in the past 24 hours, and Friday's see players getting an additional free ticket.
Free tickets can be claimed from the daily picks section and depositing solely for gaining the free tickets without actively participating in the tournament will result in disqualification. No winnings can be obtained from the Super Duper Mini Cooper tournament spins since the spin results are solely used to determine leaderboard positions. Apart from the grand prize, participants can also qualify for several free spins and cash prizes.
The Slots Magic Promo will transform 20 participants into winners and by qualifying in the top twenty is awarded as follow. Leaderboard positions 20 up to 15 awards 25 mega spins, by qualifying in the 14th up to 10th place provide participants with 50 mega spins, and 100 mega spins can be enjoyed when players reach leaderboard positions 9th up to 6th. The winner in the 5th position wins cash worth £400, a cash prize worth £600 is paid to the player in the 4th position and ending up in 3rd unlocks a cash prize of £1,500. The runner up gets £2,500 in cash and the winner gets to drive a brand new Mini Cooper.
The grand prize in Slots Magic's Super Duper Mini Cooper Casino Tournament is a Mini One 3-door hatchback 1.21 petrol engine with a manual gear box and upgrades can be arranged. Colors to choose from depending on availability include pepper white, midnight black, moonwalk gray, chili red, British racing green, Depp blue or melting silver.
All tournament spins are active on the Ninja Master video slot, and mega spins have a value of £1.00. All super spins, mega spins, and cash prizes are awarded immediately upon the tournament finishing on the 31st of August.
Get race ready now by joining Slots Magic Casino as being a registered member allows you to participate in the Super Duper Mini Cooper promotions as well as access to one free ticket per day and additional free entry tickets every Friday. Play hundreds of exciting slots, table games and other casino games today!