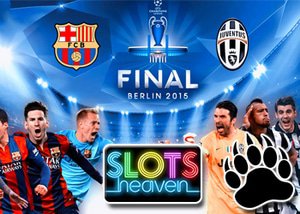 Place your bets on the outcome of the final Champions League match between Barcelona and Juventus at Slots Heaven for a chance at great rewards, especially if you're correct!
While this site deals primarily in slots machines, as their name would imply, and isn`t typically a sports book wagering destination, they're looking to reward players who are willing to make a bet with some amazing prizes. Even if your pick for which team takes home one of the most coveted trophies in European sporting events isn't right, you'll still walk away as a winner.
Bet On The Highly Anticipated Final Champions League Match
This is the kind of promotion that can appeal to everyone, even if they aren't sports fans, because the core of the reward comes just from participating. By picking either team as your favourite to win, you'll be given 50% deposit matching up to $500 just for taking the time to participate in the promo!
However, if your choice does turn out to be right, you'll also get an additional $10 to spend any way you like at the online casino site. For those looking to add a little more thrill to their sports wagering at Slots Heaven Casino, depositing more than $500 when choosing which side of the match up you're on will net you an additional $50.
To take part in this fun and exciting promotional offer, simply use the Bonus Code that corresponds with your pick to win, either JUVENTUS or BARCELONA when topping up your digital wallet. The deposit match will instantly be applied and any further amount owed by picking the right team will be given on June 8, 2015. There's still time to participate with the promo period running June 1 through June 6, 2015.
Slots Heaven features dozens of innovative and high quality games from one of the leading software providers in the world, Playtech. For players who are new to the site, registration will be rewarded with 200% deposit matching limited at $400 without needing to use a Bonus Code. Though it does not stack with the above offer, this amount is more than enough to get new player off and rolling with a comfortable amount in their bank roll.