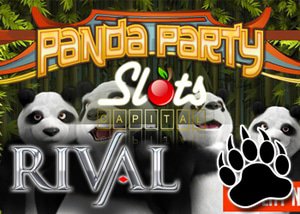 Rival Gaming was launched back in 2006 by a company from Cyprus by the name of the Black Chip Ltd.
Since that time they have gained much respect amongst their game developer peers and now many players seek out casinos where they can play their games online. No doubt that will continue to increase with the word out on their latest fun themed online slots game . It's brand new and it's called Panda Party Slots.
Live At Slots Capital - Panda Party Slots Freeplay!
Get ready for the Panda Party slots Freeplay, it's all going to be going on this weekend! Every player will be able to join in the fun and have their chance to spin to win with this special 60 Minutes/ $7 Freeplay!
This strikingly new jungle slots game along with its Freeplay bonus offers a $200 maximum cash out and also a 60x multiplier. Get ready for some real rumble in the jungle-style fun whilst making ones way through the bamboo woods. The Pandas are playing and they want to have a party, who wants to join in the fun!
The game is played out over 5 reels with 20 different payline options cranking up the fun. Players get to join the Panda gang along with some of their favorite treasures like the magic pot, the toy dragon, their Panda ball, treasure chest and let's not forget their lucky lanterns!
Get ready for some exciting free spins as the lucky lanterns change their color and now prepare to experience the launch of the Pandamonium round. Here the party really gets going in full tilt as the Panda icons really start to party hard and now transform themselves into drop icons. Along with the games Wild multipliers that just love to be on the increase, this is definitely a party one will remember!
The Panda Party slots is bound to prove a huge hit for slots players of all kinds. Who after all doesn't like to get some free slots action especially when it involves a 60 minute/ $7 Freeplay? Who knows what the potential outcome could be? There's only one way to find out and that's to head on over to the Slots Capital casino today, Everyone's invited, time to have fun!