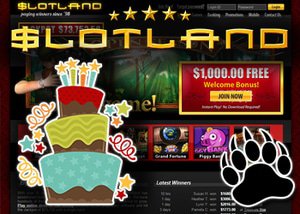 Slotland online casino is turning 17 and holding their annual birthday celebration with a special $6500 prize draw. They are also celebrating a $207K Grand Fortune winner.
Slotland Casino always make a big deal of their winners and they are one of the only online casino that celebrate with the players that win their unique casino games. This October we see Slotland celebrating their 17th birthday and they become one of the longest running operators of jackpots, bonuses and lots of fun.
This week Slotland is also celebrating a massive jackpot win as one of their players, Charles M, takes home a massive $207,619 as winning the site wide progressive jackpot on the Grand Fortune slot. Grand Fortune is a classic 5 reel slots game with 15 paylines. It features a popular free spins bonus round with win multipliers and an expanding wild symbol. According to the newest winner, Charles M, he is going to treat himself to a new car and give his current model to his son.
He went on to say that he loves cars and that will be one of his first purchases. This latest online slots winner spoke with the Slotland customer support representative and stated, "My teenage son will love this too because I'll hand down my old car to him. Once I won about 3000 bucks. That was nice but this is so much better. I was totally dumbfounded when I realized what I'd won. The next morning I woke up so excited I stopped at a car dealer on my way to work thinking what new car to buy."
Charles went on to say that his whole family is really excited about his win on Grand Fortune and they are looking forward to a family vacation. He said that he has always wanted to see the Great Wall of China and that right now they are looking at a number of different places so they are going to take their time deciding on the perfect vacation spot.
Players this month at Slotland are invited to join in the birthday celebrations. The online casino is going to hold a draw at the end of the month and a special prize of $6500 in birthday casino bonuses will be rewarded. If you want to get your hands on some of this you must deposit at least $75 between the 16th and the 31st of October.
According to Slotland Manager, Michael Hilary, they are so excited to have had a big jackpot win during their 17th birthday celebrations. He also went on to say that they have a new gaming coming out this month and that the Slotland birthday party is one that will be remembered.