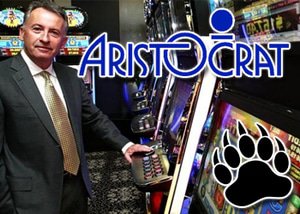 Aristocrat is a well-known name in the gambling world, but a lot of people have been sleeping on them even though they've jumped to the number three position for slots.
Over the past two years, there have been a lot of major changes in the slots industry. Companies have been purchased and taken over, and a lot of rumbling has happened when it comes to which companies are the top in the industry. After the dust has settled, Aristocrat has come out as being the number three provider for slots with the purchase of Video Gaming Technology, a large games provider, for $1.3 billion. The top two positions being controlled by industry juggernauts Scientific Games and International Game Technology (IGT). However, they're not wanting to just stop there, and their CEO is planning for a drive to the top.
Taking on the Giants of the Industry
International Game Technology and Scientific Games aren't companies that have just jumped into the top positions overnight. They've been in those spots for a long time, and for Aristocrat to take them on, it's going to take some major use of strategy and a fair amount of luck. Jamie Odell is the CEO of Aristocrat, and he's very optimistic about their chances of taking over a higher position. They're coming close to being the top dog in tribal casinos, and this is all a part of their strategy of working different angles to pick up more of the market.
A Two-Part Game-Based Strategy
Something we see in the slots industry is that many games have a popular brand driving them, but then they lack strong gameplay. Aristocrat is all about building initial interest with major brands like Batman and The Walking Dead, but then they keep players coming back by offering an excellent experience with top-notch gameplay. This is a major part of their strategy going forward, and it seems to be paying off.