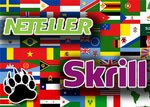 There is big news as we recently learned that Skrill and Neteller closed prepaid card access from Non-SEPA countries, which could have a massive impact on gambling operators.
Paysafe Group-owned brands Skrill and Neteller have withdrawn their prepaid MasterCard services from Non-SEPA Countries and in a message sent to all their customers earlier in the week they said, "We regret to inform you that as of November 25, 2016, we will no longer offer the Skrill Prepaid MasterCard in your country,"
This message left a lot of the Paysafe PLC customers in a tight spot and there has been a lot of anger floating around the internet. Skrill and Neteller have both stated that online casino customers are their biggest member base so this will no doubt prove to be big loss as the online gambling industry continues to grow year on year.
The email sent to all customers has advised them that their accounts remain open and they will be able to access their balances and according to Skrill, "send money to any other Skill users or online businesses accepting Skrill."
From November 25, 2017, only citizens of countries within the Single Euro Payments Area (SEPA) will be able to use the prepaid MasterCards to withdraw funds from their e-wallet accounts.
There are some countries that have yet to be abandoned by these payment processors but reports are suggesting that this will happen sooner rather than later. Some of these countries include Belarus, Brazil, Columbia, Ukraine, Russia, and New Zealand.
EU countries are set to be untouched by this Skrill Neteller prepaid card closure and these countries include the United Kingdom, Norway, Italy, Austria, France, and Switzerland. It is also believed that the US will not be impacted by this move.
Canadian Payment Providers - Neteller and Skrill Alternatives For Online Gambling
Neteller and Skrill are prepaid card payment processors that have been used by thousands of online casinos around the world. Both companies have been catering to the online gambling industry for years and according to reports, it looks like they have pulled out from over 100 countries. We offer a full list of trusted Canadian payment providers on our site so be sure to check them out if you have been using Neteller or Skrill for your online gambling needs. We will also be updating our casino listing as a full list of those countries being cut off are provided.