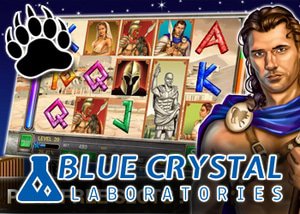 Blue Crystal Labs is a startup company that was created by Jesse Janosov, former Zynga social-casino executive. They have just unveiled Simon Slots, a new skill-based social casino game that is sure to prove very popular.
Simon Slots is the brand new slots game and it combines the old sound memory game Simon with the spinning reel of a slot machine. Players will have to remember the sounds and symbols that light up when the reel stops spinning and then tap on the symbols on the screen in the right order to win. This new game goes beyond the luck needed to win slots and brings in an element of skill that should appeal to a myriad of players.
The Simon Slots game could very well be classified as a skill-based game and this will mean that it could fall under different regulations when it comes to gambling. At the moment, Jesse Janosov has stated that the game is a pure social casino game that uses virtual goods purchases. This was revealed in an exclusive interview with GamesBeat and he went on to reveal that players can buy virtual goods with real money, but they can't cash out their winnings in the form of real money. This means that this new title is not a real money gambling slots game.
With the said, Janosov has left his options open and Simon Slots could be converted into a gambling title where players could win real money and this would see if being classified very differently. Most games of chance are illegal in the US, but skill-based slot machines are legal in about 41 states. If Simon Slots is classified as a skill-based game, players would be able to bet real money in 41 states and not just three.
The strategy being used is consistent with a prediction made by Adam Krejcik at Eilers Research, that specializes in social-casino games.
Janosov believes that his game appeals to a wide audience with young people looking for more interactive titles. Janosov has stated that he thinks that Simon Slots is a modern game that will be very appealing to younger audiences. He stated in his interview that they focuses on problems dealing with real money gaming and the next generation gamer. According to him, younger players are not converting to real money players on slots and they are aging out and not being replaced. He went on to state that just pushing a spin button is not enough for new players and he feels that they are bridging the gap to the new gamer without alienating new players.
Simon Slots is now live in beta version on a number of mobile platforms and can be found at the Google Play Store, Windows and Amazon Kindle stores. A version for Apple's iOS is currently being worked on. This is currently a soft launch and the game is being tested across multiple territories. Players can send challenges to one another. Janosov has stated that he hopes the game can be converted into a real money game but for the moment they are starting with free-to-play social casino games.
Janosov has a lot of insight into the social casino business having been a part of it for more than six years. He was the former head of Zynga's social casino game operation up until 2013 when he left to form Blue Crystal Labs. The company has already raised $1.5 million in seed funding and among their investors is Mark Pincus, CEO and founder of Zynga.
Below you will find a video preview of the Simon Slots game and what you can expect from it.
The social casino may be dominated by giant companies at the moment but Blue Crystal Labs believes that innovation is still possible in this $3.4 billion industry.