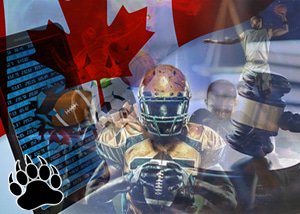 Canada is a step closer to the legalization of single-game sports betting in the country thanks to the C-218 bill passing the House of Commons and advancing to the Senate.
Legislation to legalize single-game sports betting in Canada on sports like football, ice hockey, basketball, and baseball will advance to the Senate after a third debate and vote took place in the House of Commons. Bill C-218, also referred to as the Safe and Regulated Sports Betting Act, will seek to amend the Criminal Code, giving territories and provinces the freedom to regulate in-person and online bets on the outcome of individual sporting events.
Most of the legal sports bets in Canada need to include a minimum of two selections, widely known as parlay betting. At the moment, horse racing is the only single sporting event that you can bet on legally in the country. However, when the C-218 bill is approved, it will make sports betting in Canada far more attractive as bettors will have the flexibility and freedom to place single-game wagers on a multitude of sporting events, including baseball, ice hockey, football, and basketball to mention but a few.
How the C-218 Bill Can Improve Gambling in Canada
Due to the betting restrictions, an estimated $14 billion in wagers from bettors in Canada are going to offshore sports betting sites and illegal bookmakers every single year, according to the Canadian Gaming Association. Deloitte Canada has also suggested in a recent report that sports betting in Canada can expand from $500 million a year to almost $28 billion a year in legal wagering within five years of legalization.
On 22 April 2021, Bill C-218 made its way back to the House of Commons after being reviewed by the Justice and Human Rights Committee. The bill has been supported by a wide variety of members from all parties and remained untouched throughout the entire process. However, this does not include the amendment to keep the pari-mutuel betting system in Canada for horse racing intact.
The legalization of single-game sports betting in Canada has attracted a selection of prestigious companies in the country that are interested in capturing what is expected to be a massive base of bettors in the Great White North. Companies like FansUnite Entertainment, Bragg Gaming Group, and Score Media and Gaming have all seen their shares increase with the hope that the legal betting market in Canada will mirror the impressive growth witnessed in the United States when legal reforms occurred in 2018.
Now that the C-218 Bill has passed the House of Commons, everyone is patiently waiting in anticipation for the Senate to carry the ball over the finish line, including John Levy who is the CEO of Score Media and Gaming. TheScore is estimating a market potential of between $3.8 and $5.4 billion for online gambling in Canada in annual gross gaming revenue. The organization has based its figures on historical data that has been taken from legal online gaming markets in the United States and several other countries around the world.
Bettors in Canada have demonstrated loads of support after the update was announced to the federal legislation. It was also reflected in a strong backing for the bill by both parties. It's a positive step for the legal gambling market in Canada and a huge win for the economy as well. Apart from spurring growth in the betting realm, legal single-game sports betting in Canada can also expand other companies in the country, including secure payment sectors, media, telecom, and IT.
Sports Betting Sites Accepting Canadian Bettors
While everyone is patiently waiting for Bill C-218 to pass the Senate, why not place a few bets at an assortment of leading bookmakers that welcome Canadian bettors? We offer some of the most prestigious sports betting brands at Grizzly Gambling, impressing with loads of betting markets, a plethora of sporting events, attractive user-interfaces, competitive odds, mobile compatibility, and a wide variety of trusted and reliable payment options. Visit our bookmaker review section to find out more!